Willian wants to remain at Chelsea for 5 more years, but...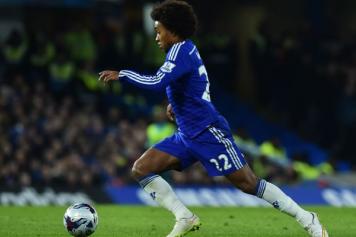 12 September at 22:55
Willian wants to remain at Chelsea for a lot longer.
With a deal currently set to expire in two years, the Brazilian star wants to add on another three seasons to his current deal with the blues.
This is quite different compared to the rumours that linked him to Barcelona this summer, or the ones wanting him to join José Mourinho at Manchester United for the past two seasons.
The scorer of 44 goals in 241 total games with the Blues, the Seleçao magician has endeared himself to fans despite not starting regularly under Antonio Conte.
Signed from Anzhi five years ago, he is now 30 years old, and will have to contend with the Pensioners' policy of not extending players in the 30 bracket by more than one year at a time.
Speaking to the club's website, Willian had this to say:
"A lot of people, they say a lot of things, but I never said that I wanted to leave Chelsea, never ever.
I always say that I want to stay at Chelsea as long as possible and I am happy to stay here".
"When I arrived here my plan was to stay here as long as possible and now I am here for five years I hope to stay five more.
"I know I have two years of contract left but I hope to stay more years in the Premier League."

For more news visit Calciomercato.com.