Willy Sagnol: "Wiltord's fault that Zidane was sent off in World Cup final"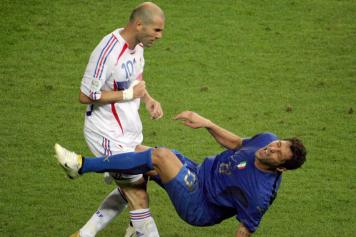 09 January at 21:20
Almost 12 years has passed since that summer night in Berlin when Italy defeated France on penalties to win the FIFA World Cup for a fourth time.
It was also a night that produced one of the most disturbing and yet iconic images in football history: Zinedine Zidane being sent off for headbutting Marco Materazzi and walking past the World Cup trophy.
Willy Sagnol, who scored his penalty in the shootouts that night, was asked about this SFR Sport 1 and came up with a rather shocking accusation: "If Wiltord had not played the ball out the referee would never have decided to stop the match." Emmanuel Petit, who was a pundit at the time filled in stating: "the images of Zidane headbutting Materazzi was shown in the stadium after the referee stopped the match."
Twelve years on, the story continues with the French former international players having blamed Materazzi, the referee and now teammate Wiltord. Who knows, one of these days they might finally start blaming the person who headbutted Materazzi.
Nima Tavallaey Roodsari (@NimaTavRood)