With the new stadium looming, is it time for Roma to fully rebuild?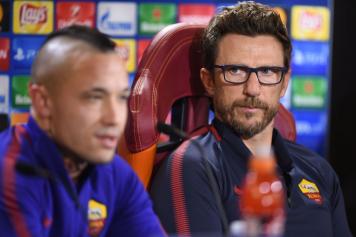 30 January at 15:45
The news that Roma seriously considered selling their starting striker Edin Dzeko in January, at a time that the club is competing for a Champions League spot against cross town rivals Lazio no less, while also having qualified out of the group of death of this season's edition of the cup with the Mickey Mouse ears, puzzled many fans and pundits. But beyond the short-term implications of this current season, should Roma be looking to aggressively rebuild?
Despite Monchi's famous statement that the giallorossi aren't a supermarket, the club's track record on the mercato in the past years suggests the exact opposite. We've seen players like Lamela, Marquinhos, Benatia, Salah and Pjanic leave Italy's capital for massive returns, and while Monchi's predecessor Walter Sabatini had ensured there was still enough talent on the squad to consistently qualify for the Champions League, it always felt like there was a firm ceiling for Roma in the Serie A standings as well as another big sale around the corner.
Roma feel like they are stuck in a vicious cycle, and while they've certainly had some exciting moments in the past few years, they have nothing to show for a period in Italian football that saw a significant decline in the two milanesi clubs. Feels like Roma have to decide if they want to keep following the same formula- sell 2/3 significant players each year and try to replace them best they can in hopes of getting back to the Champions League- or go in a different direction.
The timing may actually be perfect for a full blown rebuild at Trigoria. Last summer Francesco Totti finally retired, and with the new stadium looming in the coming years, the time may be right to build the squad with the goal of peaking in 2/3 years. As a matter a fact hiring Monchi may have been the first step in this direction- the Spanish sporting director is known as one of the best in the business at discovering young talents.
When you look at Eusebio Di Francesco's squad you'll see numerous key players on the down side of their careers: De Rossi, Dzeko, Kolarov, Fazio are all over 30, and while Nainggolan and Strootman could still be considered to be in their primes, because of their lifestyle and injury history respectively, most would consider them to be old for their age.
But maybe the trend is finally starting to change. While in his first summer running the giallorossi's mercato Monchi signed veterans on bargain deals in Moreno, Kolarov and Gonalons he did spend the bulk of his resources on younger players: Lorenzo Pellegrini was brought back from Sassuolo, and the club spent about 60 million combined on Patrik Schick and Rick Karsdorp.
While so far Roma hasn't received much from Schick and especially Karsdorp because of injuries, those are the types of players Monchi should continue to target. The goal should be to have a team ready to hit its peak when the giallorossi are ready to move into their new stadium, and by taking some hits in the short term by rebuilding the team now, Roma may actually be able to hold on to their stars in the future.
In order to get a big return on players like Nainggolan, Strootman and Dzeko Roma needs to act fast. All of them have seen a drop off in their performances this season and because of their age, the window to sell them at a high price is closing rapidly. In addition to getting a good return on three players on the down side of their careers, Roma would also save a small fortune on their wage bill.
Roma has their "new" captain of the future, a title De Rossi held for what felt like an eternity, in Alessandro Florenzi. The versatile winger will turn 27 this year and can be the bridge between the past of Totti and De Rossi to a new future featuring new young stars. In the past few seasons, Roma has always had a very strong midfield- they could continue to do so even should Nainggolan and Strootman depart.
Home town boy Lorenzo Pellegrini has been a revelation this season, and considering that he's still 21 years old there is still a significant margin for improvement. While the former Sassuolo midfielder does have a fairly cheap exit clause in his contract, he'll almost certainly sign an extension with the potential of becoming Roma's new signature player- now Monchi must decide the types of players to surround him with.
Roma could look for older/established players like Moreno, Fazio and Kolarov in an attempt to finish in a Champions league spot, or they could go a more bold route and sell most of their veterans and go for highly rated players in Schick/Pellegrini's range- talents like Berardi, Torreira, Cristante etc that could fully reach their peak by the time the new stadium opens up.
While it may hurt in short term, the benefit of selling veterans and lowering the club's wage bill for a few years would also go a long way towards resolving the Financial Fair Play issues of the past few years that forced Roma to sell players like Salah and Benatia in the first place.
The best definition of insanity is repeating the same action and expecting a different result, with the new stadium looming it's time for Roma to consider taking a step back to take two forward in the future- Monchi and Palotta should seriously consider blowing it up.
David Amoyal