Zidane defends Ronaldo: He's missed a lot of games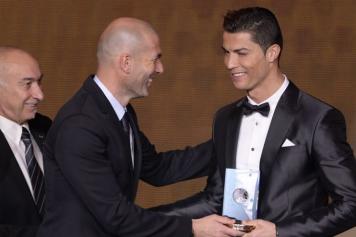 02 October at 12:41
Zinedine Zidane has come out in defence of star striker Cristiano Ronaldo, complimenting a "phenomenal"
pass of his despite not scoring against Espanyol.
The Portuguese international hasn't enjoyed the most successful start to the season, missing out on five straight games (four in La Liga) after he pushed a referee in the Spanish Super Cup final win over Barcelona.
And the 32-year-old has failed to score since his return to play, playing poorly against Real Betis and only decently against Deportivo Alaves.
The former Manchester United man cut a frustrated figure this weekend as the Galacticos beat Espanyol 2-0 at home.
But Coach Zidane has stood by his man: "he's not tired, he has missed a lot of games. He is very disappointed because he hasn't scored yet but this is football. That pass to Isco was phenomenal. I hope that in the next game it changes for him."
Speaking of the game more generally, Zidane said that:
"It's difficult when you play a team that is very closed off like this, you have to have patience. We scored once in the first half but that is going to change."