HORNCASTLE: will €60m man Leonardo Bonucci leave Juve?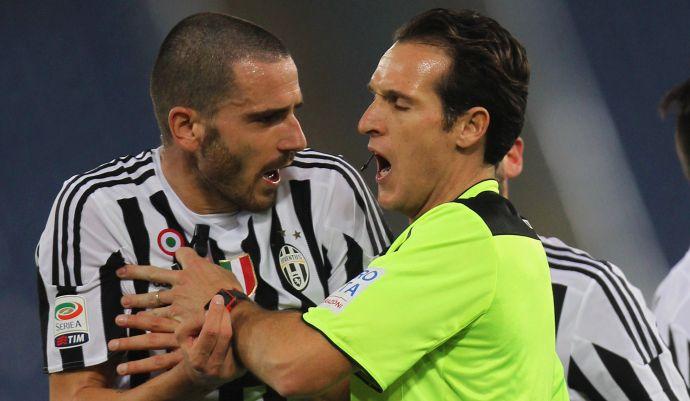 Commenta per primo
The special at the Fratelli Bravo isn't the fagioli grassi or bagna cauda you find in other restaurants in Piedmont. Nor is it gelato although this particular Trattoria south east of Turin is earning a reputation for a scoop of a different variety. In May, the owners posted a photograph on Instagram with Juventus striker Alvaro Morata. In addition to his favourite dinner, the brothers made him a memento. "Adios Amigo" it read in what looked suspiciously like Gianduja chocolate powder. It was the clearest indicator yet of Morata's intention to return to Real Madrid.
At the weekend, the Fratelli Bravo were at it again. Instead of food blog there Instagram is becoming more and more like a gossip column. Another group photo of theirs has become the source of great intrigue. It showed Leonardo Bonucci and his former Juventus teammate, the West Ham and Italy international centre-back Angelo Ogbonna, sat outside the restaurant. "Lesson number one !!!" the accompanying caption declared in English.
Whether Ogbonna had been testing them on their vocab or not is unknown, as is the bearing this post actually has on Bonucci's future. What we do know is it surfaced at a time when the player's agent Alessandro Lucci is travelling back and forth between Italy and England. On the one hand, he is working hard on persuading Chelsea to grant another of his clients Juan Cuadrado's wish to go back to Juventus on loan for another season. On the other, he has been talking Bonucci with Manchester City.
It shouldn't come as a great surprise. After Bayern played Juventus in the Champions League in February, Pep Guardiola, City's new manager, was effusive in his praise for Bonucci. "He is one of my favourite players," Guardiola revealed. So a bid from City, like the one for €45m they tabled last week, was to be expected as was the sense of opportunity on Lucci's part. They have put Juventus in a tricky position although the Old Lady is under no obligation to sell.
City have a good relationship with Juventus. Manuel Pellegrini was offered to them in the spring when Max Allegri was under consideration for the Chelsea job. However, it doesn't mean they will back down for Bonucci. City's last offer was not their final offer. Another one worth €60m is being prepared. That would be a world record for a defender. It would also make Bonucci the most expensive Italian player ever. Perhaps we should run through the reasons why Juventus might be tempted to accept.
For one, Bonucci is 30 next year. His valuation has probably reached its peak. Juventus are never going to get this kind of money for him again. They've got cover. Daniele Rugani is the future of Italy's defence and has spent the last year learning the ropes in Turin. Mehdi Benatia will also join this week from Bayern. He left Italy two years ago as arguably the best centre-back in Serie A outside of the BBC.
Those are the pros. The cons are that Juventus would lose the world No.1 in that position. Jerome Boateng aside, there is no one else like him. Genuinely world class defenders are increasingly hard to find. It would break up the BBC and leave the defence without its most dependable player. Benatia is not Bonucci's replacement. This deal, which has been on the table for months, is being done because Andrea Barzagli is 35, Martin Caceres is gone and Giorgio Chiellini struggled to stay healthy down the stretch last season. He missed 12 of Juventus' final 19 league games.
The single biggest reason against cashing in on Bonucci, however, is intangible. It's what he has come to represent for Juventus. Like Buffon, Barzagli and Chiellini, he is Juventus. There's a place on the board waiting for them when they retire. The club would miss his leadership, the sheer force of his personality. Bonucci is a big character. We saw that when he picked up the ball and stepped up to take a penalty, the first of his career, against Germany and Manuel Neuer in the quarter-finals of Euro 2016.
He embodies, probably more than anybody else at Juventus, the whole "everybody hates us, but we don't care" kind of attitude. His leadership, charisma and ability to pass on Juventus' winning mentality to the club's new recruits make him, in some respects, more valuable to them than Paul Pogba. Which isn't to say that keeping one would rule the other out of staying either.
From Bonucci's perspective, it must be flattering to know that Guardiola wants him. There can probably be no greater compliment in football at the moment than that and the prospect of learning under him has an obvious appeal. As would the chance to play in the wealthiest league in the world. City are prepared to double what he earns at Juventus. Three years ago, Bonucci admitted to Sky Italia that he did watch the Premier League "a little" although without having a soft spot for any team in particular. Still, City fans will no doubt roll their eyes when they discover he said the club that fascinates him most on account of their history and tradition is Manchester United.
Other than casually following what happens in the Premier League, Bonucci has yet to express a desire to play in England. Instead he has frequently gone on the record to say: "I want to be at Juventus for life." They are the club Bonucci supported as a boy, even in a household full of Interisti, and it shouldn't be forgotten that he committed himself to a new contract until 2020 only a year ago. Asked if he would follow Antonio Conte and go to Chelsea during the international break in April, Bonucci laughed it off saying: "I'd go for a coffee with him." But that's it.
Although of encouragement to Juventus, the reality that they will likely have to confront in the coming weeks is that if they really are serious about retaining their best players - which they undoubtedly are - then it will come at a cost. Lucci and Mino Raiola, Pogba's agent, will presumably believe their clients are entitled to substantial pay rises in acknowledgement of what they could have got elsewhere and the loyalty they have shown if the moves don't happen. It will cost the Old Lady, but at the same time it could also be the best bit of business she does this transfer window.