OPINION: Buffon may never be bettered... but Italy can replace him!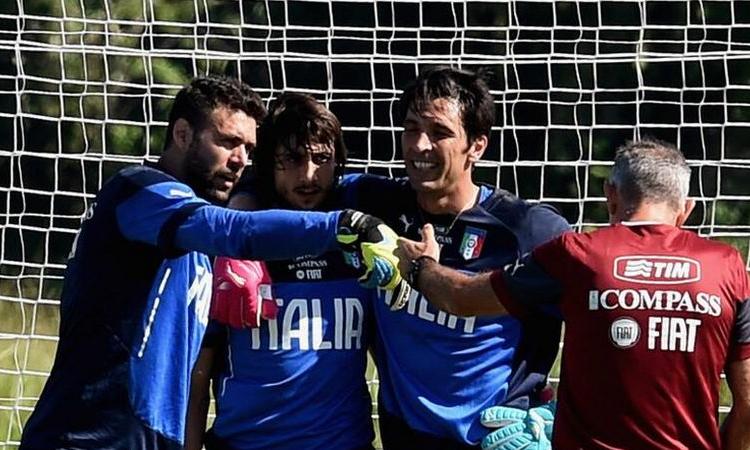 Commenta per primo
When 'Gigi' Buffon first turned his back on the goal it was to protect (it was in his own poetic terminology). Now, after the European Championships in 2016, he may well turn his back on the Azzurri and justifiably walk away as a living piece of history, a truly honourable and majestic man and a legendary goalkeeper. As the 'bard from Turin' also said in his moving open poem, he will continue to protect his goal as long as he can but when he eventually has to walk away for one last time he will leave a huge void. It is a void however, that Italy (to a large extent) are well equipped to fill.
Salvatore Sirigu,
'The immediate replacement?' It seems logical does it not? The 29-year-old goalkeeper has time on his side, he has had experience in major tournament and despite having only 15 caps for the Azzurri he has been part of the set up for six years. He has played over 140 times for Paris St Germain, the reigning French champions and does not seemed phased by the bright lights of the Champions League. He is the safe bet, he rarely makes glaring errors and has won Ligue 1 goalkeeper of the year on two occasions. This was until this season when Kevin Trapp arrived at the French Champions and displaced his Italian team mate reducing him to French Cup games. This also saw Sporting Director, Olivier Letang announce that he was free to leave if he wished.
There is no obvious problem with the former Palermo custodian, his handling, kicking and shot stopping abilities all seemed well drilled and as mentioned, his mistakes are few and far between. The issue is that he has not got that ability to pull off the incredible saves, and that's a red flag. The reason is because his positioning is not always 'on point' and this is fine if you have the ability to produce the spectacular. Walter Zenga often could stroll out of position but there was a reason he was called 'The Spider' as he could get to almost anything, whilst Petr Cech rarely springs up like Zenga did, but that us because he doesn't have to, his positioning is good. Even in the World Cup in Manaus, when he had a good game against England, he was quickly replaced when Buffon was declared fit. He may bridge a gap in life after 'Gigi' but it is unlikely to be he who succeeds full time.
Mattia Perin
, 'The man for the next decade?' The Genoese custodian certainly does have an obvious ability that has been noticed from an early age when he was on loan at Pescara back in 2012-13. The Latina born keeper may only have one appearance for the Azzurri's first eleven but he has represented his country since the U-17 level and has grown into an incredibly dependable keeper. It feels like he has been around for an incredibly long time but and the fact that he is racking up so many appearances for Genoa (93 in total) makes it too easy to forget he is only 23 years of age.
At 6ft 2" he is not the tallest of goalkeepers but his attributes are vast. He makes up for his lack of inches by an incredible standing jump. Just watch his warm up taking crosses and it is incredible how high he can spring and how much power he has in his legs. This helps him with the acrobatics when needed also and he has an ability to hang in the air like you may have seen Bodo Illgner do in the early 1990's. His reactions are lightning quick and in the last two seasons he seems to have become much braver, this has seen him close down his opponents much quicker and often he manages to get over the ball quickly in a style that used to be exhibited by Sweden's legendary keeper, Thomas Ravelli. Add to this the fact that he is useful at penalty saving and he is arguably the most complete keeper Italy have after Buffon.

Gigi Donnarumma,
'The bright young hope'. Ask yourself what you were doing when you were 16 years of age? Question your maturity, ask what pressure you could handle? Whilst most teenagers would think the world was ending if they lost the Derby Della Madonnina on FIFA 16, Donnarumma was playing in it. At that tender age he looked up against the vertical Curva Nord in San Siro and saw it set ablaze with flares and smoke bombs by Inter's Ultras. He then had to play 90 minutes in one of the most elite leagues in Europe. The comparisons to Buffon were always going to come but the performances he has produced at this age have arguably surpassed wat his name sake did at his age.
At 6ft 5" (he hasn't stopped growing incidentally) he also has agility, athleticism and reactions on his side but his main attribute is self-confessed calmness. He claimed after his debut that something in his brain told him to be agitated but he simply wasn't, he sounded disappointed. His displays this season have surpassed many of his more established piers and there are arguments that if he can perform at this high level then could he not move up to the national team. He has represented at U-17 level and he has time on his side. There is certainly no rush for him to enter a major tournament but simply to say 'he is one for the future' doesn't seem to do him justice. The question is when will it be too much for him, if it ever is and how much do the Azzurri push him?
Simone Scuffet,
'The fallen star'. One man Donnarumma could look to in order to see how your stock can plummet is Como loanee, Simone Scuffet. Whilst the rest of the world is saying 'Donnarumma he is like Buffon', Scuffet is probably sat in the Metropole Hotel on the banks of Lake Como saying, "Been there, done that." In 2014 at only 17 years of age the young keeper made his debut for Udinese in a 1-0 win against Milan. The fact that Buffon had made his debut against said Milan team, saw the entire Peninsula make the comparisons. Now as the world laps up everything the new 'Gigi' does, the man now on loan in Serie B knows that it takes more than one season to be a success.
After a sparking first season that saw him linked to Fiorentina and Atletico Madrid it was no wonder the 17-year-old was on cloud nine. His calmness has been lauded as had his pyshicality. His reflexes and speed of the line were incredible and his want to punch was made a constant possible as he has an abnormal reach. Dino Zoff had heaped praise on him saying he should go to the World Cup in Brazil, does this sound familiar? Instead, straight after signing a five-year deal with the Zebrette in 2014 he had two horrendous games at the end of the 2014 season and when new coach Andrea Stramaccioni came in the season after he dropped him. This eventually saw him loaned to Como to 'regain his confidence' but this seemed in truth like a huge drop for a player who had such a bright future. Who knows, he is one of the many 'New Buffon's' who still has much to offer.
Nicola Leali,
'The dark horse?' He is a young goalkeeper who plays for Juventus, surely he is the new Buffon? Think again, this comparison has not been thrown at the door of this 23-year-old who whilst being on the books of 'The Old Lady' is yet to play for them nor has been touted as the next big thing. At 23 years of age Leali started out at Brescia where he made just 17 appearances before being snapped up by the Turin giants. He has been since placed out on loan at Virtus Lanciano, Spezia, Cesena and now he is playing for Serie A strugglers Frosinone. There are no quick fixes for him, no straight into the first team. This is mainly due to the fact that Juventus are a.) Not desperate and b.) Want him to gain experience the hard way. This is exactly what he is doing and has played well for his club this season and is part of the reason they stand a chance of staying up.
He is 6ft 5, he has represented Italy consistently since U-16 level and is an incredibly rounded goalkeeper. He has perhaps to work on his distribution but his positioning is excellent, his timing is perhaps his best asset and he knows when to come and when to stay. Add to this he has a reach like Scuffet and you can see that he can take crosses well. He is quick to his feet and also is not scared to catch the ball in his own area or from close range shots and in many ways resembles Argentina's Sergio Goycochea, yes he is even adept at saving penalties. A lot will depend of where is when Buffon finally walks away from his beloved goalposts but don't rule out Leali.
Richard Hall (@Gentleman_Ultra)

Check out his website here.