Watford Coach Mazzarri: I performed miracles at Inter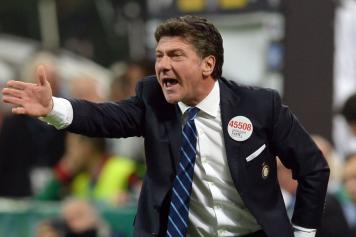 11 January at 18:50
Watford gaffer Walter Mazzarri has made some controversial statements about his time at Inter Milan.
The Italian Coach isn't generally popular among fans of the Nerazzurri, and won't help himself by trying to justify his reaching fifth place in the 2013-2014 Serie A season by blaming the quality of the squad.
"It was a great result considering that particular moment", Mazzarri told Calcio 2000 magazine (via our Italian page) "for that situation, I think qualifying for the Europa League was a miracle".
Mazzarri joined the Nerazzurri in May 2013, winning 62% of his games before being sacked in
November 2014, five points short of third place, the club's stated objective for the season.
"I add that it's wrong to think that Inter should have won the title just because of their name. Need I remind you of the squad I inherited?".
The former Napoli Coach was mostly vilified by fans of the Nerazzurri for what many believed to be negative, unimaginative football. Then again, he was given the likes of Alvaro Pereira, Ricky Alvarez and Saphir Taider.
"It was difficult, there were players who were nearing the end of their careers or at the end of their contracts, and a president who had been at the club for a long time, but who was about to sell.
Few could have done better".