AC Milan, Chelsea, Roma to battle it out for Barcelona outcast: the latest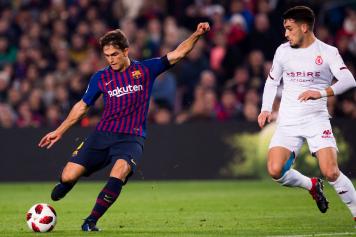 06 December at 21:20
After rumours started spreading a few weeks ago, it seems that Denis Suarez' departure from Barcelona is now a likely scenario, with several clubs interested in the Spaniard's services.
Among these are AC Milan, Chelsea and Roma, as reported by English and Italian media. Suarez' contract expires in 2020, though he wants to leave early in January.
It is believed
that Barcelona would ask for €25m, although it's unsure which formula they would allow. Between Milan and Roma, the former seems to be more interested and would be willing to take the player on loan. Barcelona, on the other hand, would if so need confirmation that they will redeem the midfielder in June.
Suarez himself dropped a major hint after his most recent match with the club, stating that: "I'm a player and I want to play. If I can't do this at Barcelona, then I'll see what to do".