Adriano reveals why refused Chelsea and Real and how Ronaldo welcomed him at Inter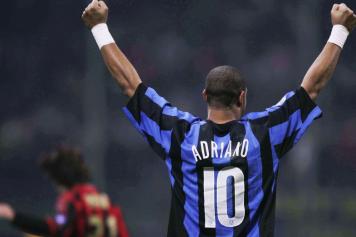 25 December at 15:00
Former Inter and Roma striker
Adriano spoke exclusively do
DAZN,
especially about his past at the
Nerazzurri
and revealed several interesting backstories.
"I did not realize at the beginning, that I was there, in Italy, at Inter or how good I was. I remember watching everyone in the locker room, from Seedorf to Materazzi. I also remember that Ronaldo welcomed me very well, even at home. At the beginning I was living in a hotel, then he asked me if I wanted to move to his house," he said.
"I experienced an unforgettable changing room at a sporting level. At the level of life, Zanetti was an example, he was very important and always next to me, especially when my father died. Moratti helped me a lot, like a real father, always with me. I will thank him forever for all that he and his family have done for me. Every time I talk about him I get excited. He was a father for everyone.
"At one time I was on my way to Manchester City, but he asked not to sell me. In those years, in addition to City, Chelsea were interested in me, in the period in which I left Parma, but I chose Inter. And then, a few months later, Real Madrid also wanted me, but I did not go.
"Future? I am fine now. I am in Brazil, in Rio, with my family and friends. I live a normal life. I did not retire from football, I just chose to take a break. If there is an opportunity to return to play, I will be there, but only in Brazil, because I do not want to stay away from my family anymore, now I have three children," Adriano concluded.