Analysis: What can Arsenal expect from Lucas Torreira?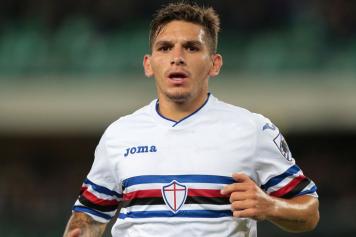 13 June at 19:00
Is Lucas Torreira the new "Marco Verratti", as many have claimed?
Not now, but he could well become one. The young Uruguayan has been linked to Arsenal and Liverpool in recent weeks, and the talk is that the Napoli target
has reached an agreement with Arsenal.
​Forgetting all talk of Verratti for a moment, the key thing here to consider is that the Uruguayan already possesses many skills that could be very useful to the Gunners, or indeed to the Anfield side.

Namely, he is slightly reminiscent of the way Emerson (formerly of Roma and Juventus) spread the ball around quickly and efficiently, and also acted as a barrier for the defence.
Still only 22, the Fray Bentos native is a lot faster than Emerson ever was, and boasts very good technique. Though he emerged as the deep-lying midfielder at Sampdoria under Marco Giampaolo, he was ironically first Coached by the latter's brother, Federico, at Pescara when he joined in 2015.
The Uruguayan star - who has been selected by his country for this World Cup, though the starting job may be too much to ask at this stage - moved to Italy having never played first-tier football in Uruguay, and was adapted by Federico Giampaolo from a false nine into a midfielder.
​Torreira has gone on to establish a great partnership with Karol Linetty - a proper rough and tumbler - and is known for providing very good quality in the middle, He controls the ball with both feet very well, and doesn't linger on it before spreading it out quickly - and to just about everyone on the team. Quite a contrast from the recent spate of central midfielders at the Emirates who don't play it vertically.
​According to Opta, Torreira (who stands at a tiny 5ft6) averages 2.8 tackles a game and a key pass in every game. He completes 87.2 per cent of his passes, and makes a pass every 90 seconds of a game.
A strong presence defensively (two interceptions a game), the Sampdoria man could become a Marco Verratti in the future, but that's not the point. He fills an immediate need for Arsenal and Liverpool (Emre Can is off to Juventus), and could blossom into a high-volume, dangerous midfielder.
He could, crucially, be the cheaper Jorginho, a player who also done the rounds in England, but who is a lot older at 26.

@EdoDalmonte