Chiellini: 'I will never be a problem for Italy. Tomorrow is not a final'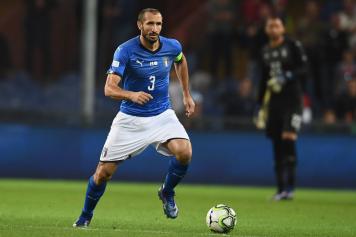 13 October at 18:30
Along with Roberto Mancini, there was also Giorgio Chiellini present at Italy's press conference ahead of the team's match in the Nations League against Poland.
The Juventus defender spoke about his role for his country as well as his teammate Leonardo Bonucci
.
"I live every day and I do it with great enthusiasm. There are many good guys here, we are getting to know each other day after day," he said.
"I will never be a problem for the national team, but I also do not feel indispensable, I am as important as the other 26-27 players that are here.
"Poland? Tomorrow is not a final nor a play-off. It is just an important boost for the European championship, but the road is still long. The match against Ukraine was nice for an hour, we played well and there is the regret of not having scored at least two goals. It was the minimum for what we had expressed.
"Bonucci says the national team has lost a year? I do not think it is time to talk about this. I am not used to making judgments about what is going on in Italian football," Chiellini concluded.