Chiellini praises Ronaldo and expresses delight over Azzurri 100-match milestone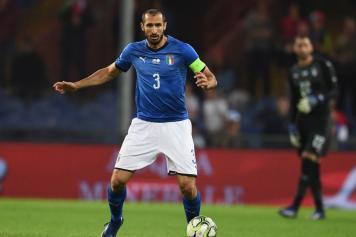 12 November at 18:35
"Defender and captain of Juventus and the Italian national team Giorgio
Chiellini spoke to Sky Sports
ahead of the next Nations League match against Portugal.
"On November 17, 2004, I made my debut and if everything goes the way it should go, on November 17, 2018, I will reach the 100-game milestone. It is even beyond the dreams that you have as a child. The
Azzurri
shirt is special because you represent your national team. The tension of international matches is not reached even in the most important club matches," he said.
"The World Cup? A regret that I will always keep behind, for the two eliminations in the group stage. The lack of qualification to Russia? Within us, there is so much disappointment, certainly, because it is an emptiness that we carry inside. The hope is that we start again with a medium-long term project, that starts from the basics to understand what is needed for Italian football.
"Future? At this age, I cannot make long-term plans. I live with the enthusiasm of a novice, call-up after call-up. After Italy-Sweden I made a long reflection, and I came to the conclusion that the national team is something you cannot refuse. As long as the coach calls you, you have a moral obligation to respond.
"If I am relieved that Ronaldo is not in Portugal's squad? I would have liked to play against him. Playing against champions helps us to improve. We are lucky to have him in training, he helps us grow a lot," Chiellini concluded.