Claudio Gavillucci, the referee expelled from Serie A after suspending a Napoli match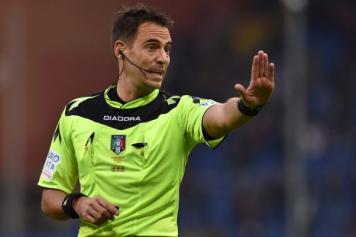 28 December at 13:30
From Serie A to the Giovanissimi Provinciali of Latina: the descent into the inferno of the referee Claudio Gavillucci in just seven months. On May 20, he refereed his 50th and final match in Serie A (Udinese-Bologna) and on December 3 he was on an anonymous pitch as a referee of a youth match between Vis Sezze and Samagor.
He was dismissed by the Italian association officially for 'technical reasons' because he was last in the performance ranking. But,
as reported by Corriere
della
Sera
today, there is another version to be verified: he would have paid for the decision to suspend Sampdoria-Napoli on May 13 this year for territorial discrimination chants directed against the Neapolitans.
It was the 31st minute of the second half and the 39-year-old Gavillucci decided to stop the game, then won 2-0 by the team coached by Maurizio Sarri. The president of Sampdoria Massimo Ferrero had to take the field to ask his fans to stop.
Gavillucci's lawyer Gianluca Ciotti, who appealed against the dismissal (the first instance court confirmed the choice and now he awaits the judgment of the Federal Court of Appeal), said: "He did what his duty was and what was in his power to do. He applied the rules and after two announcements of the speaker, he suspended the game."
"Everyone heard the chants and it could not be ignored. It was the right choice. The choice to suspend a match is difficult, the referee is under enormous pressure but the decision was right. For some reason, however, it was not considered positive in the opinion of the observers who assessed his performance," he added.