De Laurentiis takes no prisoners: Napoli prez slams Juventus, referees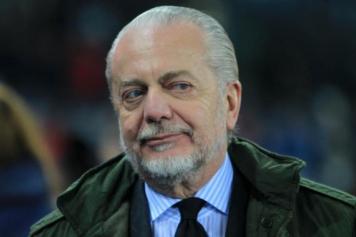 03 February at 14:45
Napoli President Aurelio De Laurentiis suggests Juventus benefit from belonging to "the most powerful family in Italy" and the Scudetto will be decided by refereeing errors.
In an interview with
La Gazzetta dello Sport
, De Laurentiis took umbrage with the treatment Juventus receives from the FIGC. "We are the only club in Serie A without debts to the banks," he pointed out. "We've grown so much since I took over the club in the bankruptcy tribunal. Today Napoli's revenue is a third of Juve's, but our accounts are in better order than theirs."
"Juventus, however, belong to the most powerful family in Italy, and the Agnelli family has been in that position for 100 years. It's not an issue of money, but of relationships that can, even silently, condition situations. That is true at every level."
"For example, with Sportfive they were gifted two thirds of the Juventus Stadium. It took me seven years to work out the finances I gave to the local council, otherwise I wouldn't be able to play at the Stadio San Paolo."
Juventus won the head-to-head match in Naples earlier this season, but De Laurentiis doesn't believe the return clash in Torino this weekend will decide the Scudetto.
"I don't think so. What will be far more decisive are injuries and refereeing errors, even using VAR. I haven't changed my mind on VAR, as I still consider it a wonderful new development and it even creates a sense of suspense, but humility is needed to improve it."
"There needs to be a superior body sifting through every incident over the course of a week to seek adjustments and improvements. I personally like those referees who have the courage to run over and watch the replay of a move every time they are in doubt. Better to do that than ignore the option."
De Laurentiis was asked whether he was afraid of enduring retribution from Juventus for his strong words.
"I am not afraid of anyone. I filmed a movie in DR Congo or Nigeria, where people's lives were at stake. What could strike fear into me in the world of football?"