De Rossi claims there is 'one difference' between Barcelona and Liverpool defeat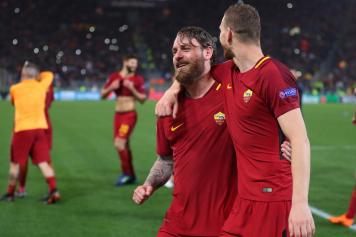 24 April at 23:30
Roma captain Daniele De Rossi
spoke
to PremiumSport after the encounter with Liverpool, which the Giallorossi lost 5-2.
"Salah? We know him, he's a great player and a great person. He cost a lot tonight, but I'm happy for him. We can hold on to what has been done in the quarterfinals, which tells us that it is possible to recover.
"We have the right to believe in it and the obligation to try, for ourselves and for the people who love Roma. In Barcelona, however, it seemed like an unlucky game, but today we approached it well and then we suffered. This will serve as a lesson for the return.
"Giving a tactical explanation by not reviewing the game would be wrong. They are strong, they prepared well for the match. We had a good 20-25 minutes or so. We were not great at defending their runs behind the defence, although it is difficult to cover against those who are faster than you.
"Today there was a blackout, great result for Liverpool, we will need to play a great game in Rome. It will not be easy, but we know it's not impossible. Physical or mental fatigue? We are paying for having two great teams, Inter and Lazio, bothering us in the standings. There are only four games are left of the season, plus the return of the semi-final."

GALLERY: Best pictures of Liverpool-Roma