Donnarumma: "My save on Milik? It was nice, my future..."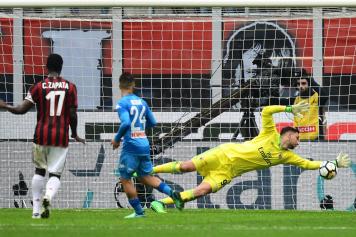 15 April at 19:05
Gianluigi Donnarumma
spoke
to Mediaset after making his 100th Serie A appearance, keeping a clean sheet against second-placed Napoli.
Donnarumma made a fantastic stop on Milik in the 92nd minute to preserve his clean sheet, while saving the day for his team.
"My save on Milik? I don't know if this will be the decider for Juventus in the Scudetto race. I hope that Napoli will fight until the end. It was a nice save. Goalkeepers can have ups and downs, I always try to do everything as I've always done, we have goals to reach," said Donnarumma.
"The transfer market? I don't know anything. Reina as my backup? I don't know, he's a great goalkeeper and it will be tough competition. I do everything for this shirt.
"I was sad to hear the Napoli fans cheering against me. Every game I watch them I want them to win. Napoli is the team of my hometown."