EXCLUSIVE Romano: Shevchenko helped derail Mourinho's Chelsea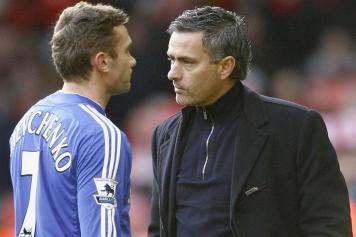 18 December at 10:13
Jose Mourinho knew. The Special One's relaxed appearance in what would would turn out to be his last post-game presser as Chelsea manager goes a long way to prove that he had accepted his fate.
But what had led to his departure? And what, specifically, led him to claim that he felt "betrayed"? Well, star reporter
Fabrizio Romano
has an idea. He exclusively reveals that
a certain

Andriy Shevchenko played a far bigger role than many of us would believe.
As is well in Italy, a name like Shevchenko's counts for a lot, especially when you consider that the former Milan star has a very sharp intellect.
The Ballon d'Or winner has found himself sitting next (and giving advice to) Roman Abramovich more and more in the past few years, and entering the Russian magnate's confidence. His presence in Chelsea's Sky Box is now a given.
Some rumours even have
the Ukrainian communicating Abramovich's ideas and opinions directly to the players, without Mourinho's prior knowledge or approval.
In an already divided locker room full of egos, one can imagine the effect this could and did have.
Mourinho's departure certainly owes something to it.
Now, Shevchenko could even find himself being given a managerial role inside the club.
It isn't a coincidence that Jose Mourinho spoke of being "betrayed" in his last conference as Chelsea manager. The Special One we all know would never have spoken in those terms.
The facts are there for all to see: the dressing room is full of malcontents, between those who have burned all bridges with Mourinho (Fabregas and Costa, to name two), to those who are playing little, those who feel neglected and marginalised, and those who are simply playing badly.
His communication with Mourinho non-existent -
the transfer market was a big bone of contention, especially the Cuadrado and Falcao deals -
Abramovich's anger led to him to try the Shevchenko card.

In many ways, Jose Mourinho knew that this Chelsea team wasn't his any more. And yet, ironically, even his decline and fall had a... Special feel to it.
Fabrizio Romano, (@FabrizioRomano), translated by Edo Dalmonte (@edodalmonte)