Hamsik reveals what has changed for Napoli under Ancelotti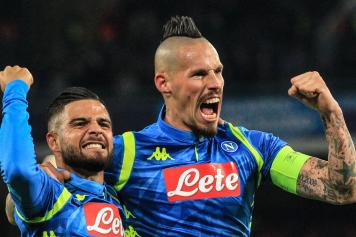 30 December at 15:10
Napoli skipper Marek Hamsik has revealed as to what has changed for the partenopei from Maurizio Sarri to the times now under Carlo Ancelotti.
Napoli are currently second behind Juventus in the league, nine points off the bianconeri despite having lost 1-0 to Inter Milan in midweek, as the nerazzurri are third in the league behind Juve and the partenopei.
Hamsik was recently talking
to official Napoli website about the difference between Sarri and Ancelotti and he revealed that they have changed the way they played, despite both of them being brilliant managers.
He said: "Both he and Sarri are two fantastic coaches. Mister Sarri has done a great job, for three years we have played a good football, which everyone in Europe has admired.
"In summer then there was the change and Ancelotti arrived , which has already won a lot in Europe, we have changed the way we play, but we are doing well and we are still able to show good football."
They picked up a 3-2 win over Bologna recently and their next games sees them face Sassuolo in the Coppa Italia after a week's break.
For more transfer news and updates, click here