Juve & Liverpool have a lot to complain about Ramos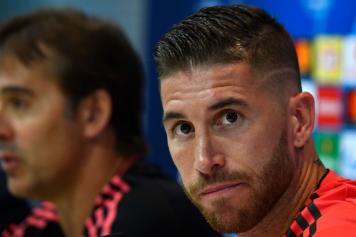 17 October at 13:40
Sergio Ramos once again proved the reputation he has built during international duty for Spain, with the Real Madrid captain seemingly intentionally stamping on Raheem Sterling's foot against England.
Despite the player posting a video denying these accusations,
Ramos still definitely has a lot of 'blood on his hands' which Liverpool and Juventus fans definitely know more about.
Liverpool fans have the freshest memories about the Spanish defender.
In last season's Champions League final, Ramos seemed to have intentionally injured Mohamed Salah
in the early phases of the match and ruled him out of the match. In addition, Egypt was also not able to use the full services of the Liverpool attacker at the World Cup, as he was evidently not at his best.
Juventus, meanwhile, have a similar memory from the
Champions League final in 2017, when Ramos fell to the grown after a light shove from Cuadrado
, who received a second yellow card for his conduct and was sent off in the final minutes of the match.
But that is not it for the
Bianconeri,
as they experienced problems with Ramos even in the last edition of the Champions League, in particular in the quarter-final matchup between Juventus and Real Madrid.
According to
Cadena Cope,
Giorgio Chiellini accused Real Madrid players of them having bought the referee. The same source says that Ramos, who was in the stands for the match, acted as the 'peacemaker' between both sides.
The player was already present on the sidelines at the end of the match when Cristiano Ronaldo scored the winning penalty, but afterward, the defender also went to the locker room to calm the spirits. Ramos then avoided disqualification, despite the obvious misconduct.
Click on the gallery to relive the incidents described in this article.