Latest: Real Madrid tried to steal Roma star from Chelsea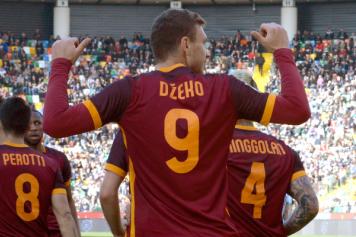 19 September at 14:00
Edin Dzeko could have joined Real Madrid back in January,
Marca revealed this morning.
All the talk around town back then was about Chelsea wanting him, the Bosnian close to joining the Blues for a sum around €50 million before the Giallorossi pulled out.
They would be rewarded later on as the former Manchester City man was key in helping the Lupi make the Champions League semifinals.
What were Real thinking? Karim Benzema wasn't scoring and needed a replacement, and Borja Mayoral was too young. Yet the operation didn't go through because Dzeko wasn't convinced, and didn't want to be a replacement. Moreover, Florentino Perez didn't seem to go into this one with enough conviction.
This interest may explain why the Bosnian is in a good position to get a better deal, one that would tack on another season onto his deal, which currently expires in 2020, at the same €4.5 million he is currently earning.
The 32-year-old has other thoughts at the moment, namely ending his three-game scoring drought and doing well against Thibaut Courtois, whom he netted against twice last season in the Group stages, when Chelsea were held 3-3 at Stamford Bridge.