Lazio fans display racist banner about Milinkovic-Savic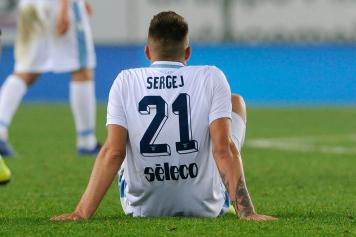 09 December at 10:00
Following Lazio's 2-2 draw against Sampdoria at home, after dropping points against Chievo the week before, the club's fans have had enough. In fact, in addition to displaying their anger in the stadium, the fans
also displayed a banner outside the Olimpico.
The target of the banner? Milinkovic-Savic. On the banner, the fans had written 'Milinkovic zingaro', which translates to 'Milinkovic gipsy'. In other words, a very harsh and unacceptable message for their star.
The Serbian hasn't had a successful season thus far, and the player we saw last campaign is truly nowhere to be seen. The midfielder was linked with several big clubs over the summer, and it has since been revealed that a big-money move to AC Milan broke through at the very end.
However, given his performances this season, the Rossoneri will be happy that Lazio's president decided to refuse the offer, as he had promised manager Inzaghi not to sell him at the end of the transfer window.