Live updates: Ongoing meeting between Montella and AC Milan executives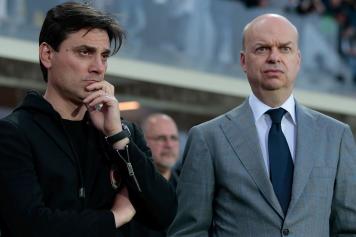 02 October at 17:05
UPDATE: 16.50 -
AC Milan executives have confirmed Montella. The meeting lasted around 30 minutes. Montella, Fassone and Mirabelli did also discuss about the next fitness manager of the club who could be Massimo Neri, currently at Ghuanghzou Evergrande.
AC Milan boss Vincenzo Montella is having a meeting with representatives of AC Milan inside the club's headquarters,
Sky Italia reports.
The Italian manager is reported to be on the brink after the second successive defeat in Serie A, the third in the opening seven games of the season. According to the Italian broadcasters Montella should be sacked today but the meeting that is currently ongoing had to be held in order to analyze the situation of the team.
AC Milan are desperate to qualify for Champions League next season otherwise they'll have to sell one of their top stars in order to solve their potential economic woes.
AC Milan are far from Champions League positions at the moment and speculations about a possible replacement of Montella with Carlo Ancelotti or Walter Mazzarri have been mounting over the last few hour.
Mazzarri, a former Inter and Napoli manager, is also being linked with replacing Ronaldo Koeman at Everton.
According to
Sky Sport
Montella is not expected to be sacked but with the International break that has just begun, the Serie A giants could take any kind of decision given that a potential new boss would have time to prepare the next game that AC Milan play against Inter.