Maradona calls Veron a 'Son of a B***h' at a CHARITY game organized by THE POPE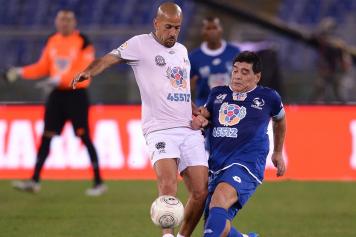 13 October at 00:45
Diego Maradona, ladies and gentlemen.
The man who is arguably the greatest player in the world frankly needs no introduction, and picked up where he left off with in his recent tiff with Mauro Icardi (whom he called a traitor, for some reason) by getting into a heated altercation with Juan Sebastian Veron at the "Game for Peace"...
a charity game Pope Francis had requested
to help earthquake victims in Argentina and the Congo.
Having bumped into one another on the pitch, Veron and Maradona were seen exchanging words in the tunnels, before El Pibe De Oro yelled "You son of a b***h!" at his opponent.
We need go back merely a year to find the source of this argument (if one can call it that): back then, Maradona had taken exception at Veron's choice... to become an executive (president, in fact) of Estudiantes! "He acts the executive, he's a traitor, I don't want to see him".
Unlike the former Napoli legend, Veron doesn't show any signs of having lost his marbles, claiming that "what Maradona says isn't very serious, and doesn't interest me".