Marotta insists removing Icardi's armband 'was not a punishment' and confirms renewal intentions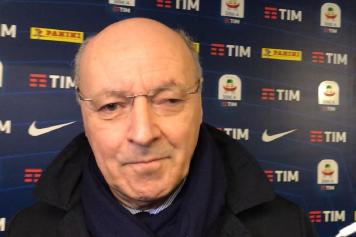 17 February at 18:15
Inter CEO Beppe Marotta spoke to
Sky Sports
ahead of the matchup between the Nerazzurri and Sampdoria and the main topic of the interview was Mauro Icardi.
"Wanda Nara wrote 'Forza Inter'? I see it as a gesture of attachment. Taking Icardi's captain's armband was not a punishment or a provision but a change. Sometimes, family leaders must take unpleasant decisions. It is part of a path of growth and strengthening ourselves," he said.
"The stone thrown at Wanda's car? The minimum is to express solidarity. Spalletti was very good at managing the dynamics of the dressing room in the last days. Icardi's physical problems? We have an obligation to believe it. They go hand in hand with a particularly emotional moment.
"The championship is still long, we will no longer speak about the Icardi case. We will solve everything within the team and everything will work out for the best. One of the captain's roles is to be recognized as a leader and this is a situation that can be rebuilt.
"Together we want to grow and rebuild. The future? Negotiations for the renewal with Icardi will talk place, we will present our proposal, without any obstructionism. This situation has nothing to do with the renewal but with the management of the group. In the course of a few weeks we will propose a renewal, as we have promised to Wanda," Marotta concluded.