Perisic: 'Interested parties will have to talk to Inter'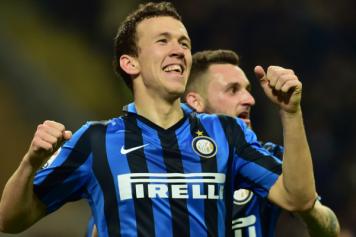 28 April at 22:39
"I have a five-year-deal, and I've just finished one, I have four left. You never know in football, if someone is interested they'll have to talk to Inter".
Maybe not the words Inter fans were hoping to hear from new star Ivan Perisic. The former Wolfsburg player, 27, has won over Inter fans as of February, taking his seasonal tally to six Serie A goals and playing blinders against the likes of Juventus (in the Coppa), Roma and Chievo.
The Croatian international has been linked to a number of clubs, including
Chelsea,
something backed by
sources in the UK
, too.
Speaking to
Inter Channel
, the winger, in all fairness, also said that he was "very happy in Italy and at Inter, when I was a kid I followed many leagues and I knew all the players who wore this shirt".
Revealing that he's doing much better with non-Balkan players now - despite rooming with fellow Croatian Marcelo Brozovic - Perisic spoke of the fans, saying that they "wanted to see Inter to win as it did in 2010, we're a young team and we've made progress.
"A lot of new players joined us this season, so we need a little more time to keep improving.
"Not many players can play in a club as prestigious as Inter, and it is therefore an honour to wear this shirt. I need to work day by day, never be content and keep training to keep improving".
@EdoDalmonte