Price-tag of exciting Serie A midfielder skyrocketed after interest of Chelsea and Tottenham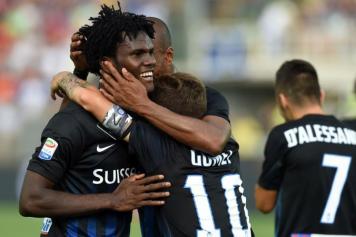 19 December at 15:00
As we exclusively reported yesterday
, Juventus have retired from race to sign Atalanta midfielder
Franck Kessié
, one of the most promising midfielders in Serie A.
Atalanta's asking price is
around € 25 million and Tottenham's € 23 million bid is really close to the Serie A side's economic request.
Juventus do not want to spend as much and
do not want to enter a bidding war which is likely to begin if Chelsea, Manchester United and Arsenal will also make formal offers
to sign the exciting 19-year-old midfielder.
Tottenham are currently in pole position to sign the Ivory Coast International but the race to sign Kessié is still far from being over.
​Kessié is
one of the most exciting prospects around Europe
having scored six goals and registered two assists in the first Serie A season of his career.
​Juventus are the wealthiest Serie A club at the moment and the fact that they've retired from the race to sign the Atalanta youngster, means that Kessié
will probably join one of these four Premier League clubs next season,
possibly for a bigger price-tag than 'just' € 25 million, which was Atalanta's initial request.