Profile: Is Matias Vecino the solution for Chelsea's midfield?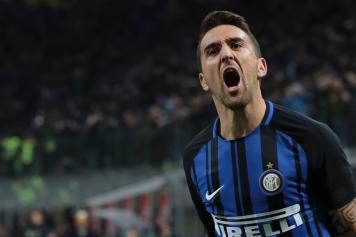 20 June at 13:00
Chelsea fans will be underwhelmed to discover that the latest name they've been linked to, Matias Vecino, was essentially replaced at Inter by Rafinha and Roberto Gagliardini in the second half of last season.
He managed to get the last laugh, however, when his last-gasp goal against Lazio on the final day of the season handed the Nerazzurri a return to the Champions League, after a six-year absence.
Fans of the Pensioners have learned to view Antonio Conte's Serie A signings with some caution: for every Marcos Alonso, the Italian has brought in a series of men (Rudiger, Morata, Zappacosta) who have yet to prove that they can perform at a high level over the long term.
Surely someone who flopped after a strong start is not what the Blues need, right?
Well, maybe. But the truth is more complex than that. Acquired for €24 million, the Uruguayan international - who is starting at the World Cup, at least for the moment - is probably still worth that sum now. It's not every day that you find a midfielder capable of doing everything.
Especially not one who helped put the Nerazzurri back on the map and revolutionise their football last Fall. Alongside Borja Valero, he was a building block on which Luciano Spalletti could impose his own vision, allowing the Nerazzurri to briefly lead the Italian league, if ever so briefly.
While Vecino seemed to flop after Christmas, this may be explained by fatigue, having played non-stop under Paulo Sousa at Fiorentina along with Valero. The former Swansea Coach bled his two midfielders (three with Milan Badelj) dry, because they were so fundamental to his system. Remove one of them, and everything fell apart.
So what's so special about Vecino? Well, he was one of the unsung heroes of the first half of the campaign, the cool-headed passer every midfield needs. A strong presser, the Uruguayan makes a lot of tackles (almost two per game according to Whoscored), is a good runner off the ball (and into the box) and works diligently in keeping possession ticking.
Rarely the kind of player to try the through ball, the 25-year-old has a great read of the game, and is instinctively capable of finding the right pass to a man in space. He is the difference between giving it away quickly (basically every midfielder before him in a five-year span at the San Siro) and helping the team either counter or establish itself in the opposition half.
Chelsea could really do with this kind of a player: lining up two defensive midfielders just doesn't work in this league, and counting on Cesc Fabregas week in, week out may not be germane to his fitness. One could also let the Spaniard play higher up, and let Vecino take care of the shop floor, something that has been missing at Stamford Bridge this season ever since Nemanja Matic left.
While Vecino can certainly bring a lot to Chelsea, one thing can't be denied: he is being given away in an attempt at signing Davide Zappacosta, because Inter can't afford Joao Cancelo, and really need a right-back who can cross.
Vecino, for his part, is surplus to requirements- with Rafinha the priority in terms of re-signing.
While Piero Ausilio doesn't believe in spending €35 million for a Wolves-linked full-back, he will take the plunge on a man who could potentially be the midfield doyen for quite some time.
The question is, are Chelsea ok with pulling the plug on Zappacosta so quickly?

@EdoDalmonte