Chelsea target Bonucci argued with Barzagli in 4-1 Real Madrid loss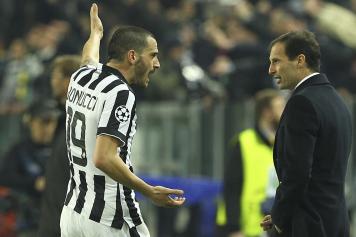 19 June at 17:45
Are Juventus falling apart?
More importantly, did they fall apart in Cardiff, allowing Real Madrid to beat them 4-1?
The Bianconeri dressing room was,
according to La Repubblica,
the scene of a heated discussion between Leonardo Bonucci and Andrea Barzagli, the former asking Coach Allegri to take Barzagli off in order to counter Marcelo better.
Though Allegri eventually made the move (by throwing on Cuadrado, the second part of Bonucci's request), but the score was 3-1 by then.
Barzagli didn't react well, telling his team-mate to mind his own business.
Apparently the rest of the locker room wasn't much better, with Mandzukic carrying an injury and Miralem Pjanic wanting to come off because of an injury.
Did they collapse mentally? Director Giuseppe Marotta says not, claiming that Juventus were only talking about "what needed to be done on the pitch".
Recent talk hasn't helped, however, with both Dani Alves and Alex Sandro demanding a departure. The latter is very interested in going to Chelsea.
Alves has never really gelled in Turin, but it doesn't help that he has advised Paulo Dybala to "go somewhere else" in order to become a star, and also criticising the club for the pre-final training routine.
"Real Madrid won because the players had their families nearby, ours could only go to the stadium."
Lemina and Neto also want to leave. Is this team collapsing at the seams?