Sarri releases Chelsea pressure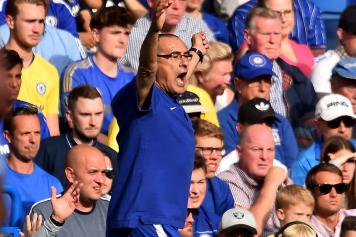 16 September at 13:15
Chelsea boss Maurizio Sarri is known to be one of the most brilliant managers in Europe for the style of play that his teams usually have. Empoli and Napoli were one of the most attractive teams to watch when the Italian was in charge.
Detractors of the former Napoli boss, however, believe Sarri won't be able to match his amusing playing style with 
the need of big clubs of winning trophies.
Now that Sarri is in charge of Chelsea he is expected to step up and try to win at least one trophy this season.
The Italian, however, is trying to release the pressure for the Blues, a tactic that he had been using while in charge of Napoli as well.
During his reign at the San Paolo Napoli were Juventus' main title contenders but were unable to finish on top of the table with Juve that continued their apparently endless title win streak.
While at Napoli, Sarri insisted that
his side was not good enough to win the title, something that he has been doing at Chelsea as well of late
:  "I think that in this moment Liverpool and Manchester City are in another step compared to us. I think we can improve. My target is 
to be the best team in England, but it's not going to take only one month. Maybe one season, maybe a little more but our target is this one.
 At the moment for me, in my opinion, Liverpool and Manchester City are better than us",
Sarri said after the Blues 4-1 win over Cardiff
yesterday.
The Premier League, however, is not the only target for the Blues who will also battle it out to win the FA Cup and the Europa League.
In Europe, in particular, Chelsea are one of the favorite sides to lift Europe's second most important trophy after the Champions League
, let's see if Sarri will hide Chelsea's expectations to win something this season.