Spalletti reveals how Inter can beat Juventus and how Ronaldo makes a difference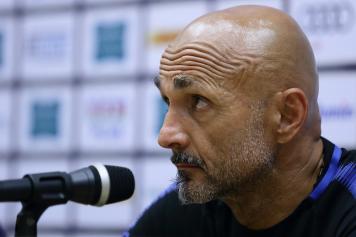 06 December at 13:10
Inter coach
Luciano Spalletti spoke to the media
in a press conference ahead of the highly-anticipated matchup against Juventus on Friday evening at the Allianz Stadium.
"Juventus is a team that tries to put in footballers that make a difference compared to the previous year every year. Three years ago, when I was at Roma, they signed Pjanic. Last year we had the strongest fullback in the league, Cancelo, and they signed him," he said.
"They took Higuain from Napoli. This year they signed Cristiano Ronaldo. The mentality he brings inside the locker room is important. This is the difference. We have made our way. They are inside a professional way of doing things right and are ahead. We must play these games with personality and character. If we do well, we can make everyone suffer, no matter the opponent.
"Injuries? Nainggolan and Dalbert remain out. They improved in yesterday's medical checkups, but they will not handle it.
"How to stop Ronaldo? Juventus is not just Ronaldo. There is also GC3, Giorgio Chiellini, a phenomenal player. He is a player of a mentality and an important force. Juve has many like him, as we have them. It is the collective that can save you. The team attitude is important and we are a strong team.
"What I expect? It is a test to make us understand if we are ready. It is a real test to bein a condition to travel anywhere and make results against anyone. They have personality, they have strength.
"Inter the anti-Juventus? Last year Napoli went close to that. They had some bad results, but this year they raised the level, but despite this, before there was less distance, but the difference was more evident.
"What Inter has more than Juve? Being a team for 90 minutes can put Juventus in difficulty. Pressing for 90 minutes and removing the spaces can be the key," Spalletti concluded.