Suarez opens up about Chiellini bite: 'I lied about reality, I thought it was the end'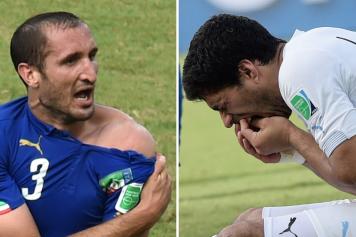 15 June at 16:30
Luis Suarez has returned to talking about his bite against Juventus' Giorgio Chiellini during the 2014 World Cup, which turned his career upside down for a long time. Five years later, the Barcelona and Uruguay striker
opened up about the incident to Fox Sports
.
"I did not accept reality, when my wife asked me what had happened I told her that we had only clashed. I turned to psychologists and this helped me a lot to accept mistakes and to grow," he began.
After the incident, Suarez was banned for four months by FIFA, thus delaying his debut for Barcelona.
"I suffered a lot, I felt really bad, for my wife, for my children, for my teammates. The way I was treated was inhuman. I signed with Barcelona and there wasn't even a presentation. I thought my career was at an end. When they called me to sign, I cried all day," he concluded.