The English fans want him as NT coach but Arsenal are also very interested ....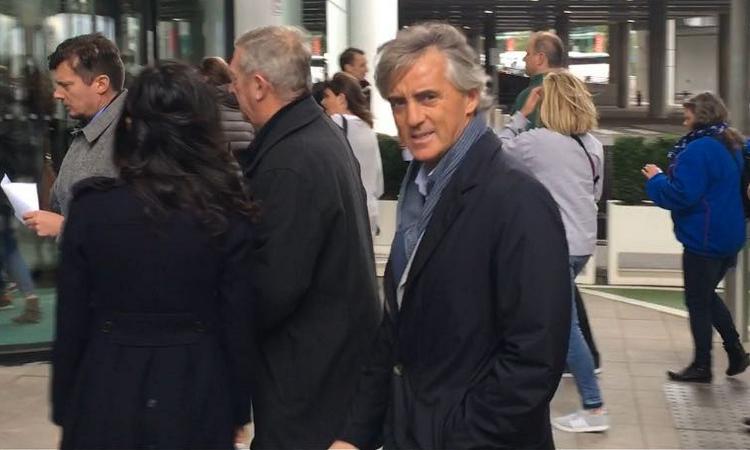 2016-10-10 - 20:29
England seems to be Roberto Mancini second home as his future is getting clearer with each day that goes by. Mancini had ended his playing career in the EPL with Leicester and coached Manchester City between 2009 and 2013 where he won an EPL title. It now seems that Mancini is one of the candidates to become England's National team coach (even if the English FA denied these rumors). He was spotted at the Wembley stadium to see the England-Malta game and this is where we saw him ...

The English fans want Mancini- We got to speak to many English fans during the game against Malta. There are many who would be favorable to Mancini's arrival were as others would prefer a british coach. Capello never really fit in well but others like Allardyce and Hodgson failed to leave a mark. Now their interim coach is Gareth Southgate. Going back to Mancini, he is one of the main
non-English
candidates
alongside
Arsene Wenger. Many English fans would love to see Mancini become national team coach: "He would be perfect, or him or Claudio Ranieri!" said a fan. "Mancini as NT coach? He is the perfect man for the job".Another fan said " He is the perfect candidate. He helped City win important trophies. The FA better hurry because if not, Arsenal or PSG will get him".
Arsenal's target-
The
gunners
would love to get Mancini to replace Arsene Wenger as the French manager could leave Arsenal at the end of the season. Mancini would strongly consider this option too as he has already received offers from China. Mancini's priority is the EPL or the English NT. Do you think he would be a solid candidate for either?
Article by Guglielmo Cannavale (from London), adapted and translated by Jean-Luca Mascaro (@CalcioNews89).