Thiago Silva flirts with Barca. Armero-Milan? Emergency Inter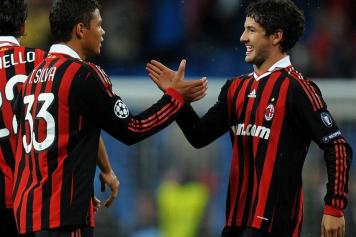 27 February at 20:07
The Brazilian defender admitted he would love to play for the Spanish giants one day.
"Who wouldn't want to play for one of the best teams in the world?" said the Milan player.
"But Milan is my second home and for now I am happy here. I am aware of the rumours but I honestly haven't received any offer.
"My agent deals with that, I am just focused in playing for Milan," he concluded.
Roma on Breno: The Giallorossi are looking to sign Breno from Bayern Munich. The Brazilian defenderwill be a free agent in the summer and is expected to leave Bayern which is why Luis Enrique has asked Baldini and Sabatini to make an offer.
Inter plan future
Emergency meeting at Inter between President Massimo Moratti and directors Marco Branca and Piero Ausilio.
The Nerazzurri are doubting Claudio Ranieri although the manager is expected to continue in charge of the team. Moratti is expected to talk with the veterans in the dressing room to understand whether a change is necessary.
Inter are considering short term options while for the future André Villas-Boas is in pole position for the job.
Milan want Armero
Milan have put their eyes on Udinese winger Pablo Armero. The Bianconeri won't settle for less than €15M but the Rossoneri are hoping to lower down their demands.
The Colombian ace has many foreign admirers while in Italy only Milan seem interested. Massimiliano Allegri feels the player has what it takes to become a Rossonero.
Milan will probably offer the services of young player in exchange for Armero as well as an solid offer.
Serafino Ingardia