Zanetti to become Inter president?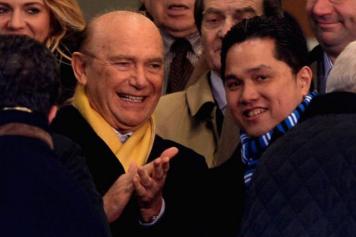 30 August at 12:15
President Erick Thohir is set to sell the remaining 30% share he has of Inter.
The Indonesian businessman has done very well for himself, but Tuttosport write that, one by one, all his executives are leaving the club,
Chief Strategy Officer Michael Williamson is the latest to up sticks, proving that Thohir's influence is waning. He was last responsible for picking Frank De Boer, a disastrous decision which went against what the rest of the front office wanted.
The Dutchman was sacked in mid-October of 2016. Thohir's departure would coincide with Inter's qualification to the Champions League. Though never publicly revealed, the agreement he signed with Suning in 2016 included a nice bonus for him in case Inter ever got back into the competition.
Right now the situation is in transition: either Steven Zhang will take over as president - his father, Jindong, is far too busy in China - or vice-president Javier Zanetti could occupy the post. Either way, it looks like Inter are finally saying goodbye to their Indonesian owner.