De Boer; "Brozovic could play against Roma. I want to win the Europa League"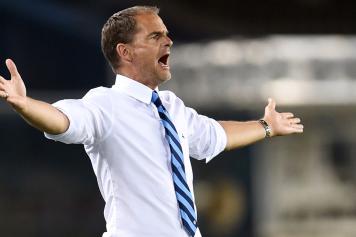 28 September at 18:35
Ahead of tomorrow night's Europa League clash against Sparta Prague, Inter coach Frank de Boer has been speaking at his press conference.

He was first asked about the absence of the only two players to have scored for the club this season, Icardi and Perisic to which he replied; "It will only be a matter of time before some of the other players score, I'm not worried by this situation".

Asked if Croatian midfielder Marcelo Brozovic would be included in Sunday's trip to the capital to face Roma he declared; "Yes he could be, he will be reinstated little by little". Next up, he was asked if he would be taking the Europa League seriously and he replied; "We want to win the Europa League but there are many more matches to come in the competition so I have to choose which players to include in Serie A and which to deploy in this competition. At the moment, tomorrow's game is the most important".

When it was suggested to him that he is prepared to put trust in younger players de Boer replied; "I think players with quality should always learn more in training and after that they should be given the chance in the first-team". Finally, on the importance of tomorrow's match after the home defeat to Hapoel Beer Sheva he stated that; "We have zero points, it will be a big game for both teams and as I've said earlier, we want to go as far as possible in the tournament".


S.M