Eriksen is a Roma fan! Michu dreams Napoli, Inter eye Van Wolfswinkel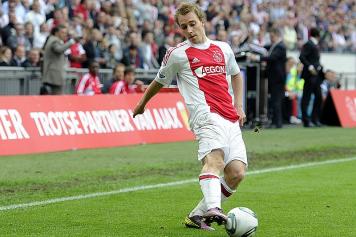 28 February at 19:49
Milan target Cristian Eriksen revealed that he is a Roma supporter. The Ajax starlet is one of the hottest talents in Europe having been linked to Manchester United, Milan and Barcelona.
"It is true, I am a Roma fan," confessed the Danish attacking midfielder.
"After my games with Ajax, the first thing I do is how the Roma game went. I don't really know when I started supporting them but when I was a kid I used to play FIFA Manager 2001 and pick Roma.
"I am honoured that so many big clubs are after me but I would be delighted to play for Roma one day," concluded Eriksen.
Michu dreams Napoli
The Rayo Vallecano starlet would love to play for Napoli one day. Miguel Pérez Cuesta, known as 'Michu', claimed it would be a dream of his to move to Serie A.
"Serie A is a beautiful league, very fascinating," claimed the Spanish player.
"I follow it as much as I can and Napoli are my favourite team. In the future I would like to wear the Azzurri shirt, although for now I am fully focused on Rayo," confessed the player.
"Inter are in trouble but I think they will get back on track, they have good players. But the title is a business between Juventus and Milan," concluded Michu.
Double Suarez for Juve: The Bianconeri are not just after Luis Suarez for Liverpool, according to 4-4-2.com Juve are also following Argentinean striker Matias Suarez from Anderlecht.
Inter eye Van Wolfswinkel
There is a new name in the Nerazzurri shopping list. According to 4-4-2.com, Inter are looking to sign Dutch striker Ricky Van Wolfswinkel from Sporting Lisbon.
The former Utrecht player netted 15 goals in the 31 games this season and has also been linked to Lazio. Van Wolfswinkel is tied to the Portoguese outfit until June 2016.
Caceres-United: Juventus will have to watch out from Manchester United. According to Bleacher Report, the Red Devils are interested in the Uruguayan defender. The Bianconeri will almost certainly complete the deal for Caceres in the summer so United will have to improve on the €11M fee.
Serafino Ingardia