EXCLUSIVE Arsenal are crazy about Juventus millennial Moise Kean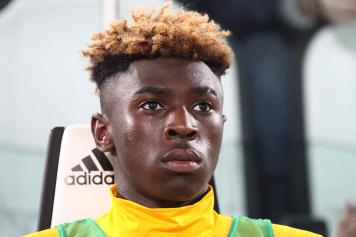 25 October at 09:58
Paulo Dybala's recent injury could be very good news for Juventus fans… and the Arsenal scouts who will be watching their next two games against Sampdoria and Napoli.
Why? Our sources tell us that the Gunners are hoping to watch Moise Kean, the Bianconeri's 16-year-old sensation. Born in Vercelli in the year 2000, he'd be the first millennial to play in Serie A.
The Juventus fanbase was hoping that the Lombard youngster would make an appearance against Lyon, Udinese or Milan, seeing as he's momentarily replaced the injured Marko Pjaca in the squad.
Arsenal have been following him for years, and he will be their scouts' main talking point with ownership once they return to the Emirates, who have been sending observers to Kean's games ever since he was in the Bianconeri's Under-15s.
They're not the only club that's interested: PSG and Manchester City are also fascinated, but it's Arsenal who have been putting in all the hard work. Will it pay off?
@NicolaBalice, adapted by @EdoDalmonte