Exclusive: Juventus make De Rossi contact, but the player doesn't want to betray Roma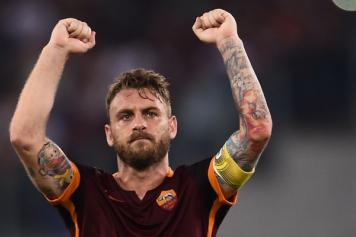 28 October at 15:31
Juventus are always keeping a close eye on players with expiring contracts. The Old Lady has signed the likes of
Paul Pogba, Andrea Pirlo, Patrice Evra, Kingsley Coman, Fernando Llorente, Sami Khedira and Dani Alves
for free over the last few years and Giuseppe Marotta is considering making offers also for other big names whose contract expire in June 2017.
No secret that
Thiago Silva is one of the players Juventus would like to sign as a free agent at the end of the season. Santi Cazorla and Real Madrid's Pepe
are also plausible options in case they fail to extend their contracts with Arsenal and the
Merengues.
There is a new name, however, in the
bianconeri
shortlist. Our Juventus reporter
Nicola Balice has exclusively learned that Juventus have made contact with Daniele De Rossi's agent Sergio Berti.
De Rossi's Roma
€ 7-million-a-year contract runs until the end of the season
and Juventus want to nab him for free from AS Roma. The main sponsors of De Rossi's Juventus move are the
Old Lady's Italy Internationals as the likes of Buffon, Bunucci, Chiellini and Barzagli
are on very good terms with the 32-year-old midfielder.
Berti has informed De Rossi about the interest of the Serie A giants. The
bianconeri
have offered the player the same salary that he gets at AS Roma, spread on a two-year deal.
De Rossi, however, has rejected the offer of AS Roma's hatred rivals as he doesn't want to betray his childhood club, where he's been playing for since he was a child.
De Rossi
doesn't want to play in any other Italian team and if he's not going to extend his stay at the Olimpico, he could opt to join the MLS at the end of the season
, though Juventus are not going to give up and will make a new attempt in February.
Nicola Balice, translated and adapted by Lorenzo Bettoni @lorebetto