EXCLUSIVE INTERVIEW Juventus target Lapadula: "My future is with Pescara"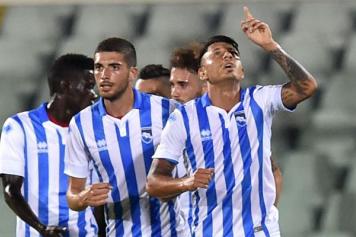 17 December at 21:07
Gianluca Lapadula
has quickly become a star in Italy's second division.
After scoring 24 goals with Teramo last term, his move to Serie B side Pescara has been a resounding success, having already netted 10 goals in 2015-2016.
The Italo-Peruvian player (his mother is from South America) has played so well that Juventus, Fiorentina, Genoa
and Peru
want him to play for them.
More specifically, the Old Lady plans to acquire the 25-year-old and
sell him to Sassuolo to reduce Domenico Berardi's € 18 million transfer fee
.
In this EXCLUSIVE interview with CM.COM, Lapadula told us a little bit more about his future...
Your performances have been excellent this term after netting 24 goals last season…
"I hope to play as well as I did last term. I am playing on a regular basis at Pescara and the fans love me. I hope things continue exactly as they are".
With Juve and Genoa wanting to sign you, what can you tell us about your future?
"There is only Pescara in my future. I want to earn promotion to Serie A. It would be a dream came true for everyone at the club, from the players to the fans. My future is here."
Your dual citizenship makes you eligible to play for either Italy or Peru. Have you received any call from South America?
"No, the Peruvian Football Federation have never called me, but I'd be proud if they did. Honestly, I have never been there and I just speak a little Spanish when I am at home (his mum is Peruvian). If ever received a call-up I'd definitely take that into account."
Angelo Taglieri (angetaglieri88), translated by Lorenzo Bettoni (lorebetto)