EXCLUSIVE: Serie B wonderkid's agent reveals Arsenal interest!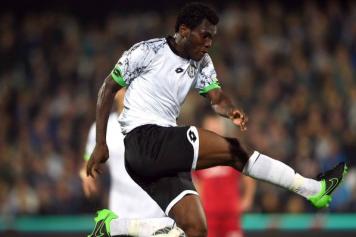 31 March at 21:39
Frank Kessié is one of the brightest talent that Serie B can offer this season. The promising Ivorian central midfielder belongs to Atalanta but he joined Cesena on a loan deal at the beginning of the 2016-17 campaign in order to get some game time.
Scorer of three goals in 29 games in Italy's second division, Kessié has been linked with moves to each top Serie A club but according to his agent, German and English sides are also keeping tabs on his client.
Calciomercato.com has exclusively talked to
George Atangana
to know more in depth about the player's plans for the future.
Mr. Atangana when was the first time you scouted Kessié?
"It was during an U-17 World Cup game. He was playing as central defender with Ivory Coast, his national team. He was also the captain and it was easy to understand his qualities. He had been playing in many different roles and I believe that's a god thing for his career. He can play as central midfielder, central defender and even wingback."
And then he moved to Italy…
"Yes, I proposed hi to Sartori who wanted him at Atalanta. However, my client could not get any game time there so we decided to move on loan to Cesena. Rino Foschi [Cesena's Sporting Director] wanted him badly, and I guess he was right."
Which are his best qualities?
"First of all he's a person with honest principles who always keep his feet on the ground. He's only focused on how to improve and is always ready to learn from his teammates. He knows he has a long way ahead, he was born in 1996 so his career has just begun."
Is he ready for a big team?
"Absolutely. He has all the qualities he needs to impose himself in any club."
Talking about big clubs, could you tell us which side are the most interested? Arsenal and Shalke are rumored to have set sight on him.
"All the best Serie A clubs too, but there lot of foreign clubs monitoring his progresses. The ones you mentioned are included, actually the English one have scouted him a couple of times already."
What are his dreams for the future?
"Like every young Ivorine footballer, Yaya Touré is his idol. Kessié wants to win important trophies and play the world cup with his national team."
CM.com staff, translated by Lorenzo Bettoni @lorebetto