EXCLUSIVE Totti is done for at Roma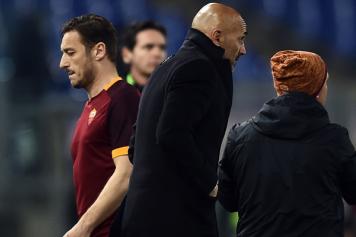 18 April at 11:33
It's been in the post for a while: Francesco Totti's days at Roma are numbered, according to transfer pundit Fabrizio Romano (@FabrizioRomano).
Yesterday's locker-room bust up (some reports claim that Totti and Coach Luciano Spalletti even came to blows) after Roma's 3-3 draw with Atalanta may well be the point of no-return for the Giallorossi's talisman, who first debuted for the club in 1992.
With Inter Milan breathing down AS Roma's necks, yesterday's game against a struggling Atalanta should have brought three points for a side looking to compete for second place in Serie A - and an automatic Champions League qualifying berth.
Instead, the team needed to be rescued by Totti, who came on to score late on to salvage a point. Even that was not enough to placate Spalletti, who berated his players for "making a spectacle of themselves for ten years!".
It is increasingly apparent that that goal may be one of Er Pupone's last for the club: owner James Pallotta has completely embraced Luciano Spalletti's plans, and has been happy to delegate more and more to him on a managerial level, too (read our report on that here).
Totti was initially willing to renew his contract with the Giallorossi at a very discounted rate - but still got a cool reception. The last few hours have indicated that no such renewal will be forthcoming, and that the Lupa legend will have to look for a new club at the end of the season.
Totti
wants to take his time to make the right decision. The MLS is particularly keen in signing another ageing legend, and one that could still make a difference. It's a pity this love story couldn't end on better terms.
Fabrizio Romano (@FabrizioRomano), translated by Edo Dalmonte (@EdoDalmonte)