Fans hit out at Bauza as coach still reluctant to give Icardi Argentina call-up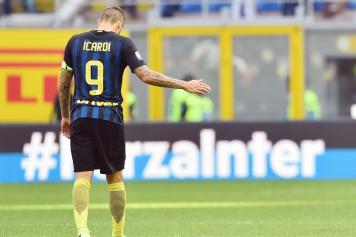 27 October at 13:16
Like it or not, Mauro Icardi is being one of the most prolific striker in Serie A over the last few seasons. The Argentinean striker was the best scorer of the league in the 2014-15 campaign with 22 goals in 36 Serie A games.
In the 2015-16 campaign he managed
16 goals in 34 games
and this season he has already netted eight in the opening ten games, two less than current Serie A top scorer
Edin Dzeko.
​Despite Icardi's stunning figures in terms of goals over the last campaigns, Argentina national team coach
Edgardo Bauza is still reluctant to give the 23-year-old a call-up to senior Argentina national team
. True, the
albiceleste
have plenty of centre forwards, but Argentinean fans are questioning themselves on why Bauza keeps calling the likes of
Ezequiel Lavezzi and Fernando Belluschi
instead of the Inter striker.
With Paulo Dybala not likely to recover in time for the next two games with Argentina national team, fans thought that Icardi's time had finally come. They were wrong. If Dybala fails to recover, Bauza is going to replace him with Fernando Belluschi.
​Argentinean supporters have been hitting out at the Argentinean tactician through social media, posting messages like:
'Icardi scores goals and Lavezzi tells jokes. Guess who Bauza has called?' ' Lavezzi? Is that a joke'
or
'Icardi scores against Torino, Bauza calls Lavezzi who's not been playing for four months.'
"Everyone can have a chance to play for Argentina national team",
Bauza
has told media.
"He scored against Torino, he knows he can get a call-up, I am following him. Off-the field matters have nothing to do with what goes on in the pitch. Lavezzi is one of the leaders of this team, he's important for the team, that's why I've called him."