Horncastle: Brocchi hire leaves Milan stuck in a vicious circle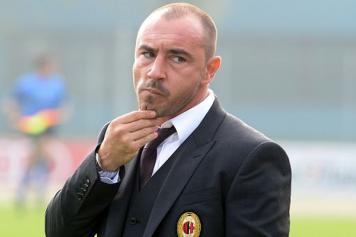 15 April at 14:12
Minutes after announcing that Silvio Berlusconi would be by Cristian Brocchi's side at his official unveiling as Milan's new head coach, the club were forced into a retraction. The President would not be in attendance after all. Although no explanation was given, the reason for it was not difficult to surmise. The decision to sack Sinisa Mihajlovic was not a popular one and rather than expose himself to fan protest and the cross examination of reporters, Berlusconi presumably came to the conclusion that it would perhaps be better not to take the chopper out today and instead stay at his residence in Arcore with Dudu the poodle.
Berlusconi had already had Brocchi and his assistant Alessandro Lezzerini over for dinner on Monday night and it was then that the writing was on the wall for Mihajlovic. The paint had first been daubed in the autumn when Il Cavaliere's enthusiasm for the Serb began to fade as fast as the colour of the leaves on the trees around Milanello. He never hid it, and in case you're wondering why Brocchi has the highest media profile of any of Italy's youth coaches despite not achieving the same success his predecessor Filippo Inzaghi did at that level... it's because he kept dropping his name into conversations.
Brocchi was keen to point out in his introductory press conference that he was not the one to court and generate publicity. The truth is he served a number of purposes to Berlusconi. The owner genuinely rates him for a start. It would be a surprise if he didn't because it's in his interests to. He's already on staff. His contract is up. It's a cheap move at a time when, financially speaking, there is about as much room to manoeuvre as Indiana Jones found when the walls were closing in on him.
Usually what follows austerity is autarky too and Berlusconi's obsession for the last 18 months has been to get Milan's academy in order and produce a young and Italian first team. The club's first attempt at innovation since the
MilanLab
will go by the name of
Milan Gold
, which
plans to identify the best 15 players in the youth sector and better prepare them for the transition into the first team.
It's a reaction to the challenges Inzaghi faced upon his promotion to the role of first team coach. Super Pippo had hoped to bring members of his Viareggio winning side through with him only to find they couldn't bridge the gap. The aim of Milan Gold is to close it and for a coach schooled in youth football like Brocchi to develop them further. It all sounds uncharacteristically sensible and long-term in its planning.
In short, too good to be true.
And let's not beat around the bush, Berlusconi left the impression of using Brocchi to turn up the pressure and make things uncomfortable for Mihajlovic. He couldn't have made it clearer to the Serb if he tried that he was replaceable. Almost any excuse would do. Berlusconi pointedly complimented Sassuolo instead of his own team after they lost to Milan in October and paid a visit to the away dressing room to congratulate Atalanta on the point they got at San Siro.
He never liked how Mihajlovic stood up to him and so Brocchi has swiftly had to tackle the perception that he only got the job because he is a 'Yes Man'.
After almost 20 years at Milan, first as an academy player, then over the course of a couple of spells as a senior player and now as a coach, the impression given is that Brocchi knows the owner better and is more of a diplomat than Mihajlovic. However, the good will of the owner is not enough on its own to be a success at Milan as Clarence Seedorf soon discovered. Things can get dirty very quickly indeed. A casualty in the civil war between his daughter Barbara and Adriano Galliani, it didn't take long for Seedorf to lose the favour of his patron.
The corridors of Milan are about as political as those of the Quirinale [where the Italian and although Galliani appears to be on board with Brocchi's promotion, his preference is believed to have been for the more experienced Marcello Lippi. The offer to return to his role as coach of the youth team if all doesn't work out is a nice gesture even if, as Inzaghi and Andrea Stramaccioni felt after their experiences, once you make the step up and get a taste for it, you can never go back.
Brocchi has seven games, including a Coppa Italia final and a shot at silverware, to convince Milan to award him the job on a permanent basis. It's early days but the first impressions in training has done little to discourage the notion of Brocchi as a 'Yes Man'. One of Berlusconi's favourites, Philippe Mexes, is back in the fold and his preferred system, the 4-3-1-2, looks set for redeployment as well. Alex is expected to lose his place despite scoring against Juventus on Saturday. As is Keisuke Honda, arguably Milan's best player since December. The novelty in training this week has been a drone.
Mario Balotelli tried to knock it out of the sky by kicking a ball at it.
Videos of Milan's Primavera have been shown to the first team to underline exactly how Brocchi wants them to play.
The curious thing in all this is the criteria Berlusconi and Galliani have set on which Milan's auditioning coach will be judged. From their point of view, Brocchi will get more points for style than for results. This is where Mihajlovic fell short in Berlusconi's opinion. "We have never seen Milan play so badly," he wrote in a Facebook post. Asked if Milan's style of play excited him last month, Berlusconi answered with a question of his own. "How long have you been watching football?" he inquired. "Since the days of Schiaffino like you," replied Mediaset's Carlo Pellegatti. "Then what kind of question is that," Berlusconi hit back. Milan's football under Mihajlovic, in his opinion, paled in comparison.
The trouble is this Milan can't be judged on the glorious standards of the past. The present team is flawed and incomplete and while the coaches change, the results remain the same, subtly hinting that they are not the problem. The owner and his trusted confidantes are instead.
Looking ahead to the weekend, meeting Berlusconi's unrealistic expectation is Brocchi's most immediate task. The other pressing issue for him is time. Brocchi doesn't exactly have a lot of it to get his ideas across. Complicating matters further will be the indifference of the crowd and the disaffected but hostile atmosphere surrounding them. Cesare Prandelli, one of Brocchi's great influences, believes he deserves faith. Brocchi was an intelligent midfield player. He was able to play a number of different positions because of his reading of the game.
"He could be destined for greatness," Prandelli said. Alternatively he could be destined for the same fate as Seedorf and Inzaghi: burned by an opportunity presented by an owner who is out of touch and out of ideas that they unfortunately considered too good to turn down.
James Horncastle (@JamesHorncastle)