Horncastle: Garcia's Roma are the disappointment of the season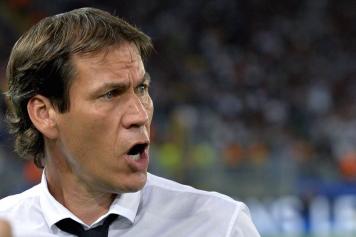 13 January at 17:17
Runners' up to Juventus these last couple of years, the received wisdom was that if the champions did not retain their title, Roma would be the ones to take it off them. What has condemned Rudi Garcia is how open the title race has been this season and his team are at risk of not even being in it. Seven points off the top, they couldn't capitalise when fellow contenders Inter and Fiorentina lost at the weekend.
This after a transfer spend in gross terms of almost €240m since Garcia's appointment in 2013 and a payroll featuring the league's highest paid player now exceeding €100m. It's a big missed opportunity and as such Roma have been the biggest disappointment of the season. In a results business, one win in 10 in all competitions is not good enough. Roma's record in 2015 was not good enough either. It would have been good enough for only fifth place, which incidentally is where they now stand.
Going out in the cup to second division Spezia was not good enough. Scraping through to the knock out stages of the Champions League with only six points was also not good enough. Taking another thrashing after the 7-1 to Bayern Munich last season, this time to Barça, was not good enough when other teams with smaller budgets and less talent have left the Camp Nou with their dignity intact. The ownership seek credibility at this level. But performances like these, in addition to the defeat in Belarus to BATE Borisov, instead invite ridicule and leave a false impression to non-Serie A watchers of the team's ability.
Roma's defending has not been good enough. They conceded 16 goals in the Champions League group stages, an average of 2.6 per game. Garcia's record in the competition - two wins, five draws and five defeats - was not good enough. Tactically they have not been good enough either. Garcia hasn't evolved since year one and if you don't you will get found out in Serie A. This is what did for Garcia. As did comments like the ones he made at the end of last season when he said Juventus were in a league of the own, uncatchable and the gap would be even greater.
But as Daniele De Rossi said in November "it would be traitorous to lay all the blame" on his shoulders. In his defence, Garcia is a victim of his own success. He set the bar too high in his first season: On inheriting a team that had placed sixth and seventh and lost a psychologically scarring Coppa Italia final to Lazio then Marquinhos and top scorers Erik Lamela and Dani Osvaldo in the transfer window, he won his opening 10 league games, got the team playing brilliant football and finished with a club record points total that would have been enough to win the Scudetto in five of the previous six seasons.
His win percentage is higher than any Roma manager in history. He delivered Champions League football for the first time under American ownership, back-to-back too, and Roma are preparing for their first Round of 16 tie in five years. All this with a net spend of little more than €4m in his time in charge at a club that has been more respectful and adherent of FFP rules than some of the competition. And this brings us neatly onto recruitment which has been top heavy and confused in the last couple of windows.
There are holes in this team. The defence lacks experience. Lucas Digne and Antonio Rüdiger are 22. Digne has no back up at left-back after Ashley Cole flopped. Alessandro Florenzi is back to playing right-back for the first time since his days at Crotone. Kostas Manolas, their elite centre-back, doesn't have a partner on a par with his ability. Leandro Castan has yet to return to his best following brain surgery. Rüdiger is raw. Garcia must rue FFP. It has contributed to Roma losing a blue chip defender every year from Marquinhos and Mehdi Benatia - who forced a move - to Alessio Romagnoli. One wonders if Roma really would have had to sacrifice Romagnoli if they had revenue coming in from a shirt sponsor by now.
The depth isn't there. Teenager Sadiq is playing up front in Edin Dzeko's absence through suspension and Francesco Totti's through injury. The substitutes in the 3-3 draw with Chievo were Norbert Gyomber, Lorenzo di Livio [16] and Marco Tumminello [17]. Up front, Roma have a collection of left-footed wingers - Mo Salah, Iago Falque and Juan Iturbe. After Iturbe refused to join Genoa in the summer and Roma thought twice about giving up on a player for whom they paid €24.5m, they instead sold Adem Ljajic, one of their few right-footers and top performers last season, to Inter. Iturbe has since joined Bournemouth on loan.
Dzeko has yet to live up to expectation, missing a series of chances. He has scored three league goals and has a conversion rate of 2%. Roma haven't played to his strengths. Their wingers are dribblers. They like the ball at their feet and to score goals themselves. They don't cross. The service Dzeko thrives off has been in short supply. What Roma have got is an imbalanced team. An insecure defence that sits deep. A selfish attack that doesn't track back. Opponents have wide open spaces and the run of the midfield. Better tactical coaching from Garcia would have helped. But so too would better tactical discipline from players whose work ethic and mentality - they're lost leads in four of their last seven games - has been questioned by predecessor Zdenek Zeman and the fans.
What might this be put down to? The lack of an authority figure? Garcia lost face after the 7-1 to Bayern. But the imposition by the club of a new fitness and conditioning staff this season also seemed to weaken his position. However well Pallotta explained it and he took time to explain it well, he must have known how the papers would twist it. On the surface the move doesn't seem to have improved things either. Roma still play at a slow tempo. Manolas didn't come out for the second half against Milan. Radja Nainggolan cramped up.
If the players are fit and healthy as the club insists then how else do we explain the lack of intensity? Is it a lack of motivation? Could Garcia no longer fire them up? Or does it have something to do with playing in a semi-deserted ground? Even when Roma were on a five-game winning streak and went top in Serie A in October, the players could be excused for thinking: what's it all for? The crowds weren't coming back. The ultras are on strike after the prefect of Rome partitioned the Curva Sud as a public order measure and remain hostile to Pallotta because they feel he didn't protect them enough.
All of which is to say Roma's problems go beyond Garcia. His replacement Luciano Spalletti is a smart appointment although he can't unpartition the Sud. After all, he's the last Roma coach to win anything [2 Coppe Italia]. He has got unfinished business after twice finishing a runner up [three times if you count 05-06] and has since proven he can get a team over the line, winning the league twice with Zenit.
A better manager now, he knows what coaching Roma is about. He knows the senior players. He got Roma playing some of the best football in Europe between 2006 and 2009. If Man United and Barcelona won the Champions League playing a false 9 in that period it's because they copied what Spalletti had done with Totti. We all know this Roma team is capable of more. They have beaten Juventus, Fiorentina and went to Napoli and got a result in December.
Nineteen games and 57 points remain. The chances of winning the Scudetto are remote but not beyond the realm of possibility. Still it would be a mistake to think all of Roma's problems are solved in one fell swoop by getting rid of Garcia.

James Horncastle, @JamesHorncastle