Horncastle: Icardi joins the 50 club at Inter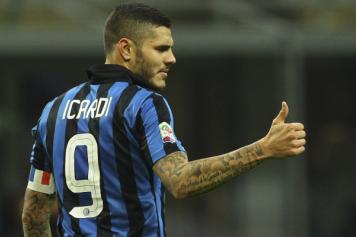 11 April at 16:57
It wasn't the best goal Mauro Icardi has ever scored. Even he'll admit that. "There are lots of them," he smiled cockily. "The most beautiful was probably the one on the turn against Bologna a couple of years back." Even so Saturday's at the Matusa was still pretty special. Perhaps because it was the unexpected. Icardi scores a lot of goals but not many of them are headers and the difficulty rating of his winner against Frosinone was high.
He stumbled in the build up but still recovered to catch the centre-back completely unawares. The movement he made involved all the alertness and opportunism we have come to expect from Icardi. There was still an awful lot to do to beat goalkeeper Nicola Leali. Icardi isn't the tallest. He stands a couple of inches short of 6 feet but his timing was perfect here as was the manner in which he contorted his body to glance Ivan Perisic's cross into the top corner at the far post. "It really was a great goal," Icardi shrugged. "Bellissimo."
Only the fourth headed goal of his career in Serie A, he celebrated with one palm open and the other closed. It was Icardi's 50th goal on his 100th appearance for Inter in the league. No party was planned. "I'll maybe have one when I get to 100," he joked. Icardi, very much the family man these days, spent his day-off with his step-children in the rooftop pool of his apartment overlooking San Siro instead.
One wonders if it was then, in the shadow of the Meazza, that what Icardi had achieved really began to sink in. Even in Inter's illustrious history, few players have been as lethal and as precocious as their current No.9. Sandro Mazzola and Diego Milito, icons of the club's European Cup winning sides in the 60s and 2010, needed 10 more games than Icardi to reach half a century.
Maurito wasn't quite as quick as Zlatan Ibrahimovic and Samuel Eto'o, it's true. Ibra got there in 96 appearances. Samu required 98. But both were at later stages of their careers. By comparison Icardi is a bambino. The candles he blew out on his birthday cake in February numbered just 23. To give you a better idea of how rare it is to be so prolific so young in Italy, only two players of Icardi's age or younger have managed to score 50 Serie A goals in fewer games.
Both played at San Siro, one for Inter, the other for Milan and upon reading their names the prevailing emotion is one of oh what might have been. Adriano, one of the game's biggest wasted talents, did it in 90 appearances. Alexandre Pato raced to it in 98. Cautionary tales, the pair of them. Except Icardi, for all the notoriety generated by the Wanda-Maxi love triangle, has none of the personal issues, nor the physical ones that affected Adriano and Pato. On the contrary, off the pitch his life appears stable and on it, so far he has fortunately stayed free of serious injury.
Providing that doesn't change, there is little reason to doubt Icardi becoming one of the most feared strikers of his generation. He reminds me of Pippo Inzaghi for that innate shark-like sense to sniff out a drop of blood in the ocean. You can't teach it. As long as Icardi is in your team, you will always carry a threat and yet a debate still rages about whether Inter are a better team with or without him.
A month ago, Sky Italia looked at the statistics in this regard and discovered that Inter averaged 2.5 points per game when Icardi was absent from the starting XI and 1.7 points per game when he was present. Last night on Sky Calcio Club Zvonimir Boban expressed his opinion on exactly what Inter are lacking to become genuine title contenders. "A central midfield player, a player on the right who can cross with his left, a playmaker and I am not sure Icardi is the right player for a winning team."
The rationale is that he isn't a team player. He doesn't link the play and that when he doesn't score he is nothing more than a passenger. But it's not nearly as black and white as Boban puts it and while on some occasions Icardi could get more involved, Inter would do well to involve him more as well. Icardi had one shot on Saturday and he made it count. "He still doesn't get the ball a lot," Gianluca Vialli countered, "and you have to ask yourself what would Icardi do if he had three or four chances a game like Higuain gets for Napoli."
Last season, Icardi became the youngest Capocannoniere since Paolo Rossi. He should be the first name on the team sheet not least because he is captain. Refreshingly he never passes up a chance to declare his loyalty to Inter and genuinely seems committed to Inter in the long-term. "I have always said and I think this isn't the first nor will it be the last time that I say it, I am here to win things and do great things."
Icardi has a contract until 2019 and doesn't see himself anywhere else even as Inter prepare for another season without Champions League football. The question is though is his future entirely in his own hands? The club's financial situation has got fans worried of big name sacrifices in the summer. Inter have net debts of €417m. They are expected to make another loss of more than €140m and although revenues have climbed, the wage bill has too. Icardi is Inter's most saleable asset but the intention is not to let him go.
"Our project foresees Mancini and Icardi [at the club]," Inter director of sport Pier Ausilio told Radio Anch'io lo Sport on Monday. "Find me another striker at his age who has scored 50 goals. He's our captain. We will build around him." The news that Inter's search for investment has attracted serious interest also offers honied reassurance.
The Suning group behind Chinese club Jiangsu, who paid £38m for Alex Teixeira and £25m for Ramires in the January transfer window are believed to be willing to buy a 35% stake in the club. As are ChemChina, who paid €7.1bn to buy Inter's shirt sponsors Pirelli last year. A combination of their prospective shares and those Massimo Moratti still holds could see him reclaim control of the club and put Inter into a stronger position to keep their best players and bring in the ones needed to make them competitive in Italy and abroad again.
The future at Inter remains uncertain. One thing for sure though is that Icardi absolutely has to be a part of it.
James Horncastle (@JamesHorncastle)