Horncastle: the Germany vs Italy saga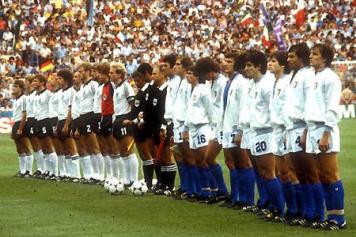 29 March at 20:30
"They have always been special games," Sami Khedira acknowledged. Homeric in their epic style, memorable for the high drama they inspire, momentous in their impact.
The Azteca 1970. El Partido del Siglo. The Game of the Century. An early Italy icebreaker. A late West Germany heartbreaker. A punch-drunk period of extra-time. Both teams come out swinging. Their guards down. Italy go behind. Hit the deck. But come back. Take the lead again. Only Germany come back too. But it lasts little more than a minute. Rivera. Gianni Rivera has the final say, rolling in the winner.
As he did RAI's commentator, delirious with joy, declared: "We'll never stop thanking our boys for the emotions they have given us." Italy won 4-3 and returned to the World Cup final for the first time in 32 years. They lost to the mythical Brazil of Pelé, Gérson, Jairzinho and Tostão. The mythical Brazil of Carlos Alberto and perhaps the greatest goal ever scored in a World Cup final. Exhausted, to get that far was already considered a success by Italy. Beating West Germany, the manner of their victory, was celebrated as if they'd already won a final. Not a semi.
The opposite was true in 1982. Then it really was a final. "Bergomi… Scirea…" Italy's centre-backs passing it between themselves in their opponents box. Their opponents box! "You'll never break the chain" Fleetwood Mac sang but that night Italy broke with catenaccio. Forget what Tele Santana and Zico will tell you. Bergomi and Scirea playing a one-two in enemy territory before picking out the sliding Marco Tardelli on the edge of the area who put the game beyond West Germany and screamed in raw ecstasy a Rocky-like call of "Adrienne! I did it."
Upset, crestfallen, the Germans were reduced to tears again in 2006 when Italy crashed their party and ruined it. A blue pen wrote the end to the "Summer Fairytale" and it was an unhappy one. A World Cup semi-final. Like 1970. Extra-time. Like 1970. Dortmund's Westfalenstadion where Germany had never lost. Until then. A no-look pass from Andrea Pirlo. An unlikely hero in reception of it and as Fabio Grosso celebrated, Germany went as white as their shirts. They looked like they had seen a ghost. The ghost of Tardelli.
Unlike in 1970, Germany did not come back. Their attacks bounced off 'The Wall' otherwise known as Italy captain and that year's Ballon d'Or winner Fabio Cannavaro inadvertently setting up a harrowing counter for the host nation. You can see it now, can't you. Alberto Gilardino on the edge of the area waiting. Not for Godot, but Alessandro Del Piero. Waiting. Waiting. It was probably only a split second but ragazzi it felt longer, didn't it? Then, as Gilagol hears the pitter-patter of Pinturicchio's feet, he plays a delightful reverse pass to him to bend, shaven-headed, beyond Jens Lehmann. Cut to a German fan, her head in hands, a look of anguish on her face.
Revenge was supposed to come at the same stage of Euro 2012, wasn't it Germany? It was supposed to be your time. That's what you told yourselves. Except then Mario Balotelli happened. Remember him? Super Mario as a genuine Super Hero. Think Eric Banner transforming into the Incredible Hulk. Another iconic celebration. Another big win against Germany.
Khedira is right. "They have always been special games." Special for Italy, that is. Not Germany. There is a mystique about the Azzurri. Italy have never lost a competitive game to Germany. You've got to go back almost 21 years to even find a defeat in a friendly. They are der Angstgegner. The Bogey team. That said, it's Germany not Italy who are favourites in Munich tonight. They are the World champions and their triumph in Brazil means they now have as many World Cups as Italy.
"The result of Germany's last friendly, [a 3-2 defeat to England in Berlin] certainly doesn't favour us," Antonio Conte admitted. "They'll be angry. But I wouldn't want it any other way. We organised these friendlies because we wanted to put our younger players to the test and see how they react. We know we're facing the best but we are not afraid."
A frisson of excitement has run through Italy ever since last week's 1-1 draw with Spain in Udine. An experiment with a 3-4-3 produced encouraging results but the real thrill came when Lorenzo Insigne, Simone Zaza and Federico Bernardeschi were all thrown on in the second half. Imagination. Creativity. Unpredictability. Youthful exuberance. It's early days but promises much and certainly gets the pulse racing more than previous iterations up front under Conte.
He wants answers tonight. Not more questions. "It's the last game I've got between now and the end of the season to make decisions," Conte said. And so if the B-I-Za trident play well again, backing up their display against Spain, they can be confident of being in Conte's thoughts when it comes to finalising a squad that, according to him, is practically already decided upon. What better occasion to do it than against Germany when memories of the past could stir Italy into conjuring a bright future for itself.
James Horncastle (@JamesHorncastle)