Inter star Icardi involved in more goals than Ronaldo, Messi, Aubameyang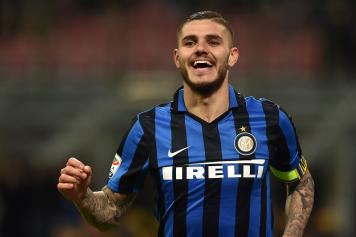 30 November at 11:59
As controversial as he is for some people, Mauro Icardi's numbers are impossible to question.
In fact, agent (and wife) Wanda Icardi has pointed out that he has contributed to a total of 16 goals,
the highest total among Europe's Top Five leagues.
Ningún jugador tiene más goles y asistencias que Mauro Icardi (16) en las Tops 5 ligas Europeas .. ⚽️ pic.twitter.com/tF6mXN67cY

— Wanda_Icardi (@wandaicardi) 29 November 2016
Following a very strong start to the season and a short dry spell, the Argentine striker has since hit the heady heights of 12 Serie A goals, adding four assists.
His total has seen him tie Bosnian star Edin Dzeko at the top of the Serie A scoring charts, each only scoring one penalty.
CHECK THE CHARTS HERE:
Icardi, 16 goals (12 goals + 4 assists)
Aubameyang, 14 (13 goals + 1)
Cristiano Ronaldo 12 (10 goals + 2)
Diego Costa 14 (10 goals + 4)
Messi 12 (9 goals + 3)
Suarez 12 (8 goals + 4)
Neymar 10 (4 goals + 6)
Lewandowski 9 (7 goals + 2)
Cavani (13 goals + 0)
Lacazette 10 (10 goals + 0)
Aguero 10 (10 goals + 0)
Sanchez 12 (8 goals + 4)
Dzeko 16 (12 goals + 4)
Belotti 14 (10 goals + 4)
@EdoDalmonte