Juve star Bonucci tells all: 'I nearly gave up football because of my son's illness'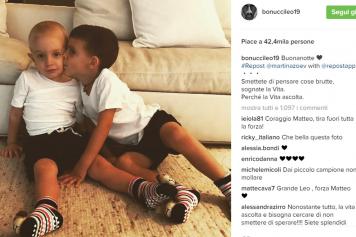 27 December at 10:35
A candid Leonardo Bonucci spoke today about son Matteo's recent illness.
Asked about the Christmas holidays, the Viterbo native admitted that "the best present would be a recovery from this illness, the end of the fear that has haunted us since July."
Today's long interview with broadsheet La Repubblica had some more surprises, namely Bonucci's admission that he was close to quitting football when son Matteo needed emergency surgery this August.

"He's started playing with his brother again," the former Bari man gladly admitted.

Thanking his wife Martina for "teaching
me to be proud of myself, whether things are going well or badly", the Manchester City target went into detail on his son's life-saving procedure:
"He's had a hernia treated three weeks before, but we felt he wasn't the same boy anymore. A wonderful doctor at the Regina Margherita doctor then detected a serious condition, and we had to intervene immediately, something done the next day at eight am. Matteo didn't come out until four in the afternoon".
"As he entered the operating theatre Matteo roared like a lion at us, as if he wanted to make us feel braver, not himself".
"I sat in a corner and had a chat with God: your will be done, I told him, but please remember that he's only a kid".
"In those weeks I considered quitting football, I just couldn't think about work, I had really put it to one side"