Mancini: If I leave Inter I will stay at home. Transfers? I want two champions"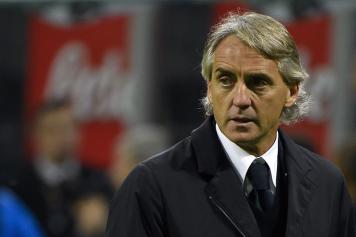 22 April at 15:58
On the eve of his side's game against Udinese, Inter coach Roberto Mancini has been speaking at his press-conference.
First question he was asked was would he consider it a failure if his team finished fourth? Mancini replied; "Let's wait and see what happens, there are still four games to go so let's wait until the season is over". Then it was on to the subject of his team's inability to find the target, he stated that; "For sure this has been our biggest problem, it's clear to everyone that we need to improve here".
Continuing on this theme, Mancini was asked why this was a problem with so many proved goalscorers in the squad. He explained that; "Football can be like this, sometimes you cannot legislate for this situation. For instance, who would have thought that both Jovetic and Ljajic would only have scored two goals each? When we took Eder we thought he would get us six or seven goals but he's been unlucky and as I say, this is football. I think next year Jovetic will score 20 goals, I don't want to look for new strikers".
Asked how he would set about rectifying this he declared; "By working hard, we must remember we are not the Inter of ten years ago. We have a young team and when I told you that we were not good enough to challenge for the Scudetto last summer, I meant it". So was he worried about not having any true leaders in the current squad? "This year we have people like Miranda, he has improved the players who have been around him also Kondogbia has a lot of quality, I don't believe we are that bad".
Then he was asked if the president Thohir was maybe thinking of replacing him at the end of the season, Mancini stated that; "I'm not thinking of going away. If I was I would go straight to the president, I see the team has soul it's just a case of scoring more goals". Asked if he received offers from other clubs would he consider leaving he replied; "If I go away from Inter I will stay at home".
Finally he was asked if he needed a couple of players with more quality in the team; Mancini stated; "Yes, I want players who already have the winning mentality, not players who could become champions, players who are already champions".
Steve Mitchell @barafundler