Mancini on the brink again, Inter make new contact with De Boer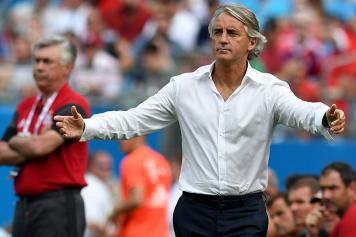 07 August at 09:46
Roberto Mancini's contract with Inter runs until 2017, but the Italian manager and new club's property Suning are not on good terms, not to mention that this week's 6-1 defeat at hands of Tottenham is one of the reasons that have led the new Chinese owners to reconsider the future of Mancini's on Inter bench.
Mancini and Suning have two different point of views on the transfer market: the manager wants to sign experienced players who can help the development of young prospects, Suning want to invest money on young players, although they met Mancini's desire of signing Antonio Candreva who will turn 30 in February and will make an official offer for Luzi Gustavo who is also close to turn 30.
Different views and the feeling that not every Inter player believe in Mancini are convincing Suning to find someone else for the Inter job.
Inter have made contact with former Ajax boss Frank De Boer thanks to the mediation of Kia Joorbachian, Mancini is on the brink and the Dutch boss is the number one target of Inter, should the club decide to part ways with the Italian gaffer.